If you are like most people in the world, then most likely the first thing you do in the morning is drink a cup of coffee. But, have you ever wondered what the jolt of caffeine is doing to your body? Besides perking you up in the morning and giving you a pick-me-up in the evening, caffeine can have many negative effects on your body.
That's probably the last thing you want to hear, but it's true. Caffeine has been linked to numerous diseases and health issues. The most surprising effect that caffeine has on your body is that it can severely harm your eyesight. But is caffeine harmful enough that you should stop drinking your morning cup of Joe?
Basic Info About Caffeine
We've all heard it, caffeine is natural. That means that it's okay to consume, right? Wrong, caffeine might be natural, but so is gasoline if you really want to get down to the nitty gritty, and you wouldn't consume gasoline.
Caffeine can be found in cocoa beans, coffee beans and even tea. It's known as a drug that is classified as a stimulant. This means that once introduced into your body, it will stimulate your mind and your body and you give that boost of energy that you long for.
The substance is super effective. Many times, only one cup of strong coffee will wake you up from a dead sleep. However because it's a drug, it also has some adverse side effects if you take too much of it. The more caffeine you drink, the more anxious you'll feel, the more jitters you'll get and you might not even be able to sleep for awhile. Even though, many people still drink their morning coffee or tea every day without a second guess.
Caffeine and Your Eyesight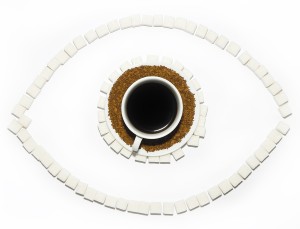 One adverse side effect of caffeine that many people don't know about is the effect it can have on your eyesight. New research found in The Association for Research in Vision and Ophthalmology suggested that people who consume heavy amounts of caffeine put themselves at a higher risk of losing their vision. The study focused on whether or not caffeine could be linked to the disease exfoliation glaucoma, which is a known cause of blindness.
Researchers found that participants who reported drinking three cups or more of caffeinated coffee per day were at a higher risk of developing exfoliation glaucoma. The results were interesting though in the fact that they linked coffee consumption to exfoliation glaucoma, and ruled out other drinks and foods that were caffeinated. This showed researchers that some compound that is found in coffee, when mixed with caffeine, can cause glaucoma.
So what about other caffeinated drinks? Since the study didn't find that other caffeinated drinks and foods can be linked to glaucoma and vision loss, then as of now there isn't a known link. However, other caffeinated beverages and food products still can cause you to be super jittery and hyper. They also can cause heart palpitations, blood sugar drops and anxiety.
Should You Stop Drinking Coffee?
You're probably wondering if after reading this you should quit drinking coffee each morning. The short answer is no. Even though caffeine is a drug, and it does have some adverse side effects, it isn't inherently bad for you.
One to two cups of coffee a day should give you the jolt that you need to wake up and keep your energy level stable throughout the day. If you're an avid coffee drinker and consume multiple pots of the liquid gold per day, then you might want to consider cutting back.
Even though eye issues in relation to caffeine intake are seemingly rare, they do occur, along with many other health issues, so it would be best to cut back. Start slow though because you could suffer from withdrawal symptoms if you stop drinking coffee cold turkey. If you do notice that you experience a change in your vision, then call your doctor.
5 Easy Ways to Improve Your Eye Health Now
Signup Now to Receive My Free Email Series on Improving and Preserving Your Eye Health Naturally.