At Last! A Complete Multivitamin Designed to be Taken with the Ocu-Plus Formula that Supports Overall Health… AND Optimum Vision!
After years of research, it's finally here!
My team and I have developed a multivitamin that provides all of the essential nutrients you need on a daily basis. I believe this is the complete multivitamin solution people have been searching for.
Let me tell you…
Why This Is Probably the Only Multivitamin Supplement You'll Ever Need!
The first thing you should know is that it took me over two years to create this product. Why so long? Well, the answer is simple. You see, unlike the supplement industry fat cats, I like to take my time and produce quality products.
This is no exception.
Our reputation as a leader in the natural vision and health care industry is important, but even more than that, we care about our customers. That's the main reason my team and I strive to provide you with the highest quality supplements that will truly benefit your health.
I realized early on, however, that not all companies feel the same way. During the research phase, I discovered a shocking truth. The big supplement companies often trade quality and potency for a fast buck.
It's true!
In fact, here are three things they will never tell you:
Most of the multivitamins on store shelves are made from low-quality raw materials. In the race to see who can make the most money, the supplement companies often buy the raw materials from the cheapest source. This means you – the consumer – get less than what you paid for.
Most multivitamins contain a low grade of bio-availability. Due to low-quality raw materials and other ingredients, your body cannot use the nutrients in these supplements fully. You literally excrete them out as waste by-products, flushing your hard-earned money down the drain.
Most multivitamins don't provide all the nutrients needed for full protection and complete health and vision support. You don't even get what you're supposed to in most formulas. Either nutrients are missing or not enough of them are put in.
Give me a break! This is just unacceptable to me, so I wanted to make sure the multivitamin my team formulated provides you with the…
Highest Quality, Highest Potency Ingredients on the Market!
Nothing less will do!
To make that happen I had to:
(1) Find a manufacturer who guarantees every batch of raw materials I buy from them. I scoured the industry until I found such a manufacturer. This is how I make sure all the ingredients in my multivitamin are top-notch. But I didn't stop there.
(2) I also employ a third-party laboratory, not affiliated in any way with my company, to test each of the ingredients and verify the potency with each shipment we receive. This ensures that you are truly getting what is actually on the label.
Which means the quality and potency of the ingredients in my multivitamin are second to none. You get all of the nutritional benefits you're supposed to in…
The Rebuild Your Vision Ocu-Plus Formula Complete Daily Multivitamin!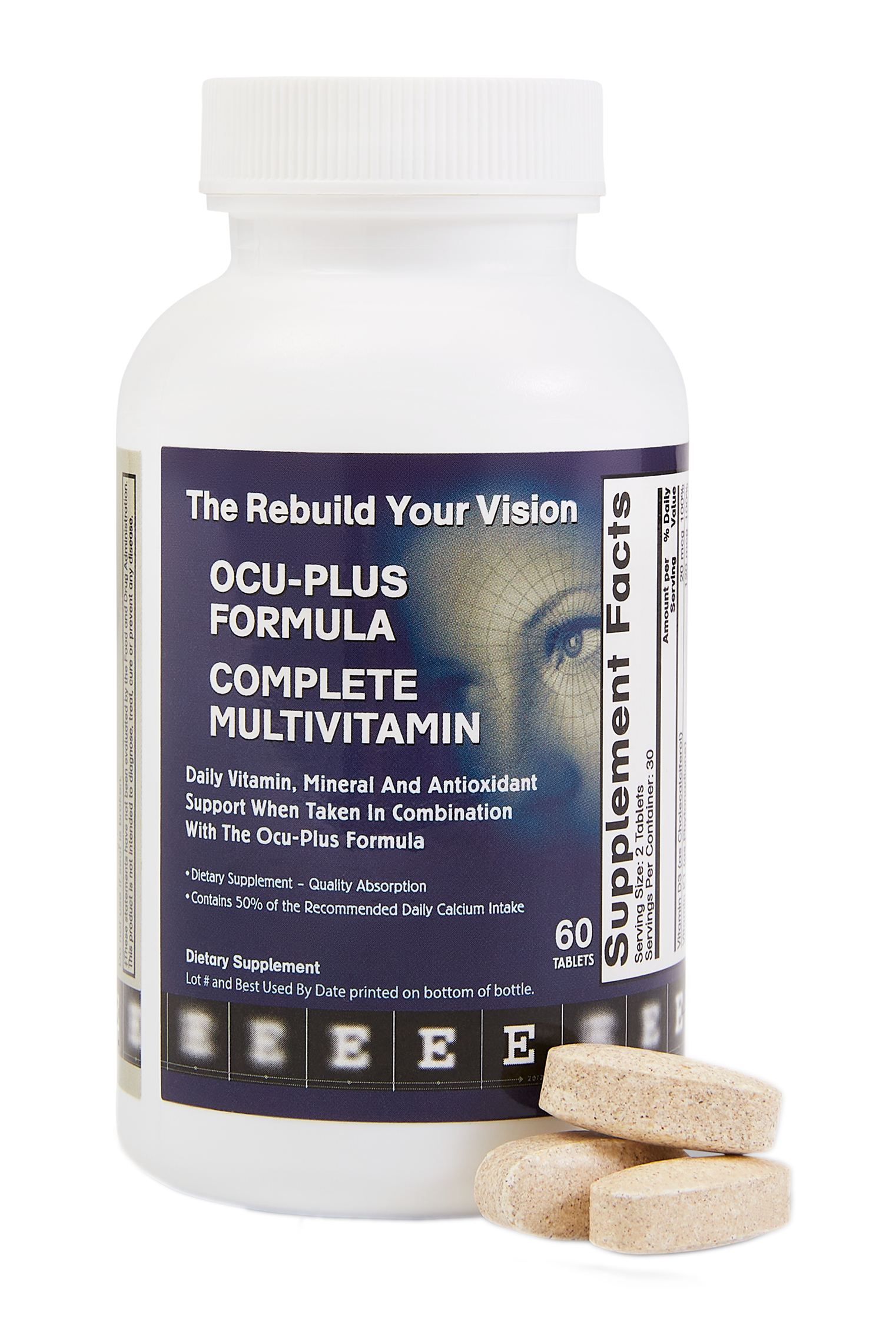 Here are a few reasons why this multivitamin is so powerful:
When taken in combination with the Ocu-Plus Formula, you get all the essential daily vitamins, minerals, and antioxidant support for overall health and optimum vision!
Unlike other daily vitamins, when taken in combination with the Ocu-Plus Formula, you get no redundant nutrients. You only ingest what your body needs for super health, vitality, and clear eyesight!
Because this is a high-grade vitamin (with the best quality and most potent ingredients available), your body can assimilate and use it as fully as possible! The nutrients can easily absorb into the blood stream and provide their benefits to every cell in your body.
Protects against free radicals and cell damage. The antioxidants in this formula fight free radicals from destroying your cells. They help keep you active, radiant, and energetic.
Contains 50% of the Recommended Daily Allowance of calcium! Calcium depletion is the number one cause of bone density loss and osteoporosis. This formula ensures you get half of the RDA, thereby helping to protect you from the onset of crippling bone disease.
Saves you money because there's no more popping a whole bunch of different supplements. You get complete balanced nutritional support when you take the Ocu-Plus Complete Multivitamin along with the Ocu-Plus Formula.
Formulated by dedicated scientists in a state-of-the-art FDA-compliant lab. I spared no expense in having the best researchers work on this vitamin.
By taking this powerful multivitamin, your body gets everything it needs to stay healthy. Just take a look at the actual label of the 22 vitamins, minerals, and herbal supplements that you will be getting in addition to the 17 vision supporting nutrients in the Ocu-Plus Formula: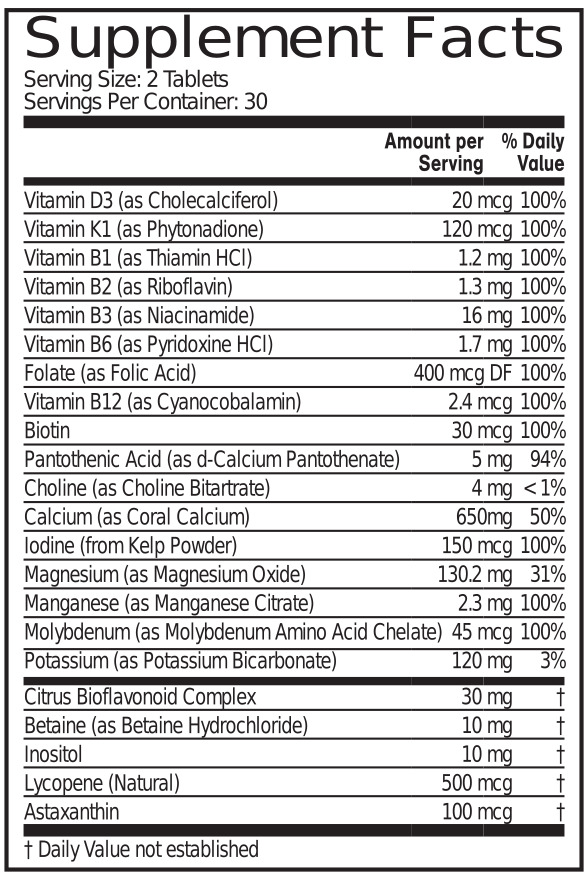 Each ingredient was chosen for a specific health and vision-enhancing purpose. Just look at the amazing health benefits of each ingredient:
1. Vitamin D3 – 20 mcg: Plays an important role in maintaining organ systems. May help in bone growth and boost immunity.
2. Vitamin K1 – 120 mcg: Helps prevent blood clotting and keeps bones strong.
3. Vitamin B1 (as Thiamin HCl) – 1.2 mg: Fuels the body by converting blood sugar into energy. Keeps mucous membranes healthy. Essential for nervous system, cardiovascular, and muscular function.
4. Vitamin B2 (as Riboflavin) – 1.3 mg: Breaks down food, maintains body tissues, and helps to absorb other nutrients. Must be replenished daily.
5. Vitamin B3 (as Niacinamide) – 16 mg: Rids the body of toxic and harmful chemicals. Helps the body produce various sex and stress-related hormones. May improve circulation and reduce cholesterol levels.
6. Vitamin B6 (as Pyridoxine HCl) – 1.7 mg: Needed for protein and red blood cell metabolism. Essential for proper function of nervous and immune system. Helps increase oxygen flow in blood stream.
7. Folate (as Folic Acid) – 400 mcg DFE: Helps in production and maintenance of new cells. Needed in the production of the building blocks of cells DNA and RNA. Helps prevent anemia.
8. Vitamin B12 (as Cyanocobalamin) – 2.4 mcg: Maintains healthy nerve cells and red blood cells. Crucial for proper functioning of brain. Assists in cell metabolism and formation of DNA.
9. Biotin – 30 mcg: Important for cell growth, production of fatty acids, and metabolism of fats and proteins. Essential for healthy hair, skin, sweat glands, nerve tissue, and bone marrow. Helps to steady blood sugar levels.
10. Pantothenic Acid (as d-Calcium Pantothenate) – 5 mg: Required to sustain life. Critical in metabolism and synthesis of carbohydrates, proteins, and fats.
11. Choline (as Choline Bitartrate) – 4 mg May help prevent memory loss associated with aging. Protects liver from certain types of damage. May lower cholesterol and homocysteine levels, thereby protecting against cardiovascular disease.
12. Calcium (as Coral Calcium) – 650 mg: Strengthens bones and prevents bone disease such as osteoporosis in people over 50.
13. Iodine (from Kelp Powder) – 150 mcg: Regulates thyroid activity and basal metabolic rate. Combats fatigue, mental sluggishness, and weight gain.
14. Magnesium (as Magnesium Oxide) – 130.2 mg: Essential to the proper functioning of all cells. Acts as catalyst in more than 300 biochemical reactions in the body. Important for nerve and muscle function, keeps heart rhythm steady, and supports immune system. Also regulates blood sugar levels and promotes normal blood pressure.
15. Manganese (as Manganese Citrate) – 2.3 mg: Essential trace nutrient in all forms of life. Acts as cofactor for a number of enzymes important to healthy cells.
16. Molybdenum (as Molybdenum Amino Acid Chelate) – 45 mcg: Biologically necessary as trace element for normal metabolic processes.
17. Potassium (as Potassium Bicarbonate) – 120 mg: Important in brain and nerve function. May reduce risk of hypertension and heart disease.
18. Citrus Bioflavonoid Complex – 30 mg: Works with vitamin C to provide full antioxidant support and help maintain integrity of capillaries.
19. Betaine (as Betaine Hydrochloride) – 10 mg: Plays important role in health of cardiovascular system. Reduces harmful levels of homocysteine and thereby helps protect blood vessels from damage that can result in heart disease and stroke.
20. Inositol – 10 mg: Critical for health of cell membranes in brain, bone marrow, eyes, and intestines. Promotes healthy hair and hair growth. Controls estrogen levels and reduces blood cholesterol levels.
21. Lycopene (Natural) – 500 mcg: Powerful antioxidant that may help prevent prostate cancer and some other forms of cancer, heart disease, and other diseases.
22. Astaxanthin – 100 mcg: Yet another powerful antioxidant essential to vision health, cardiovascular health, and the health of the brain, spinal cord and peripheral nerves.
When taken together with the Ocu-Plus Formula, you get a total of 38 different vitamins, minerals, and herbal supplements that provide you with full and balanced nutritional support on a daily basis.
Just Look at What You'll be Getting When You Take the Ocu-Plus Multivitamin Along with the Ocu-Plus Formula…
Contained In:
Nutrient
Amount
% Daily Value
1.
Ocu-Plus Formula
Vitamin A (Beta Carotene)
6,000 mcg
667%
2.
Ocu-Plus Formula
Vitamin C (Ascorbic Acid)
300 mg
333%
3.
Ocu-Plus Multivitamin
Vitamin D3 (as Cholecalceferol)
20 mcg
100%
4.
Ocu-Plus Formula
Vitamin E (D-Alpha-Tocopheryl Succinate)
67 mg
446%
5.
Ocu-Plus Multivitamin
Vitamin K1 (as Phytonadione)
120 mcg
100%
6.
Ocu-Plus Multivitamin
Vitamin B1 (as Thiamin HCl)
1.2 mg
100%
7.
Ocu-Plus Multivitamin
Vitamin B2 (as Riboflavin)
1.3 mg
100%
8.
Ocu-Plus Multivitamin
Vitamin B3 (as Niacinamide)
16 mg
100%
9.
Ocu-Plus Multivitamin
Vitamin B6 (as Pyridoxine HCl)
1.7 mg
100%
10.
Ocu-Plus Formula
Chromium (Picolinate)
200 mcg
571%
11.
Ocu-Plus Formula
Copper (Gluconate)
2 mg
222%
12.
Ocu-Plus Multivitamin
Folate (as Folic Acid)
400 mcg DFE
100%
13.
Ocu-Plus Multivitamin
Vitamin B12 (as Cyanacobalamin)
2.4 mcg
100%
14.
Ocu-Plus Multivitamin
Biotin
30 mcg
100%
15.
Ocu-Plus Multivitamin
Pantothenic Acid (as d-Calcium Pantothenate)
5 mg
94%
16.
Ocu-Plus Multivitamin
Calcium (as Coral Calcium)
650 mg
50%
17.
Ocu-Plus Multivitamin
Choline (as Choline Bitartrate)
4 mg
<1%
18.
Ocu-Plus Multivitamin
Iodine (from Kelp Powder)
150 mcg
100%
19.
Ocu-Plus Multivitamin
Magnesium (as Magnesium Oxide)
130.2 mg
31%
20.
Ocu-Plus Multivitamin
Manganese (as Manganese Citrate)
2.3 mg
100%
21.
Ocu-Plus Multivitamin
Molybdenum (as Molybdenum Amino Acid Chelate)
45 mcg
100%
22.
Ocu-Plus Formula
Selenium (Amino Acid Chelate)
140 mcg
255%
23.
Ocu-Plus Formula
Zinc (as Zinc Oxide)
40 mg
364%
24
Ocu-Plus Multivitamin
Potassium (as Potassium Bicarbonate)
120 mg
3%
25.
Ocu-Plus Formula
Citrus Bioflavonoid Complex
250 mg
*
26.
Ocu-Plus Multivitamin
Betain (as Betain Hydrochloride)
10 mg
*
27.
Ocu-Plus Multivitamin
Inositol
10 mg
*
28.
Ocu-Plus Multivitamin
Lycopene (Natural)
500 mcg
*
29.
Ocu-Plus Multivitamin
Astaxanthin
100 mcg
*
30.
Ocu-Plus Formula
N-Acetyl L-Cysteine (Glutathione precursor)
100 mg
*
31.
Ocu-Plus Formula
Quercetine (98%)
50 mg
*
32.
Ocu-Plus Formula
Rutin
50 mg
*
33.
Ocu-Plus Formula
Bilberry Extract (vaccinium myrtillus)
(25% anthocyanosides) (Natural)
60 mg
*
34.
Ocu-Plus Formula
Alpha Lipoic Acid (ALA)
50 mg
*
35.
Ocu-Plus Formula
Eyebright Extract 10:1
(Euphrasia officinalis)
50 mg
*
36.
Ocu-Plus Formula
Ginkgo Biloba Extract 24%
25 mg
*
37.
Ocu-Plus Formula
L-Glutathione
10 mg
*
38.
Ocu-Plus Formula
Lutein (Containing Zeaxanthin)
from Marigold Extract
10 mg
*
To prove my multivitamin supplement is second to none, I'd like you to try it on a completely risk free basis…
Try a 30-Day Supply of the Ocu-Plus Complete Multivitamin Absolutely FREE!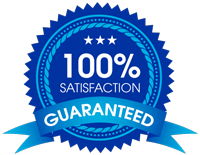 That's right… I'm so confident that the Rebuild Your Vision Ocu-Plus Complete Multivitamin will deliver as promised I'm willing to let you try it for free.
Here's how it works:
Try a 30-day supply of the the Ocu-Plus Complete Multivitamin for free (just pay postage). See for yourself how much stronger and healthier your eyes feel.
If you're not 100% satisfied after 30 days, give us a call or send us an email and let us know. There's no obligation for you to continue if it wasn't right for you. And you can keep the free bottle as my thanks for trying it. No catches or fine print.
However, if you, like most people, decide that you love all the benefits of the Ocu-Plus Complete Multivitamin, do nothing and I'll send you a bottle each month at the discounted price of only $34.95 $24.95 (nearly 30% off)! And you can cancel anytime with a quick phone call or email.
But please be warned…
Because of the tremendous costs I incur to fulfill these orders, I can only offer a limited quantity of them for free, which is why this offer is only available for a limited time.
So don't delay and jump on this incredible offer immediately!
Special Offer for Current Ocu-Plus Formula Customers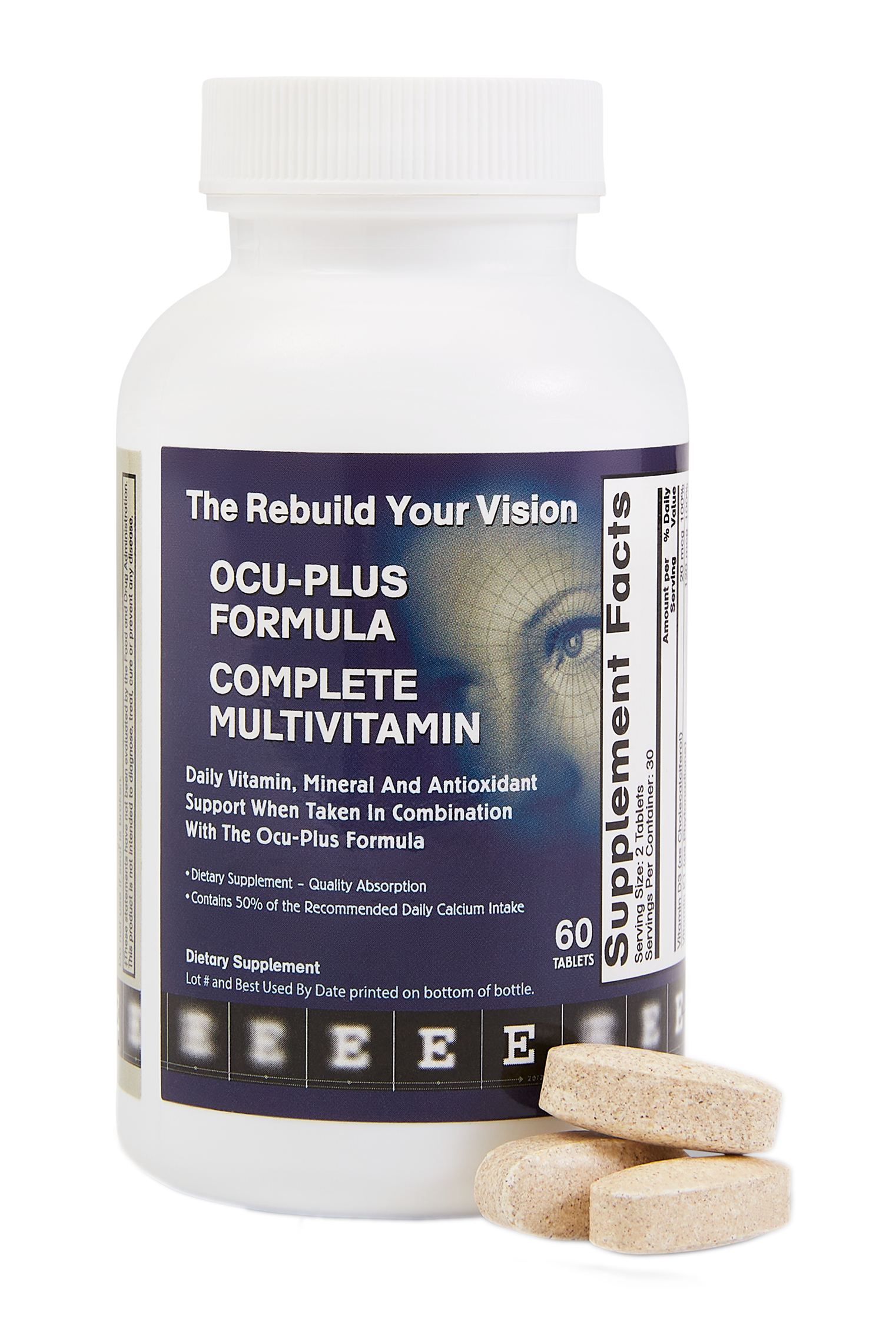 If you've already tried and fallen in love with our Ocu-Plus Formula, we'd be happy to send you a bottle of the Ocu-Plus Complete Multivitamin to try as well! You've seen the amazing results of what Ocu-Plus can do, now just imagine the health benefits you'll see when you combine these two powerful, all-natural supplements!
Not an Ocu-Plus Customer?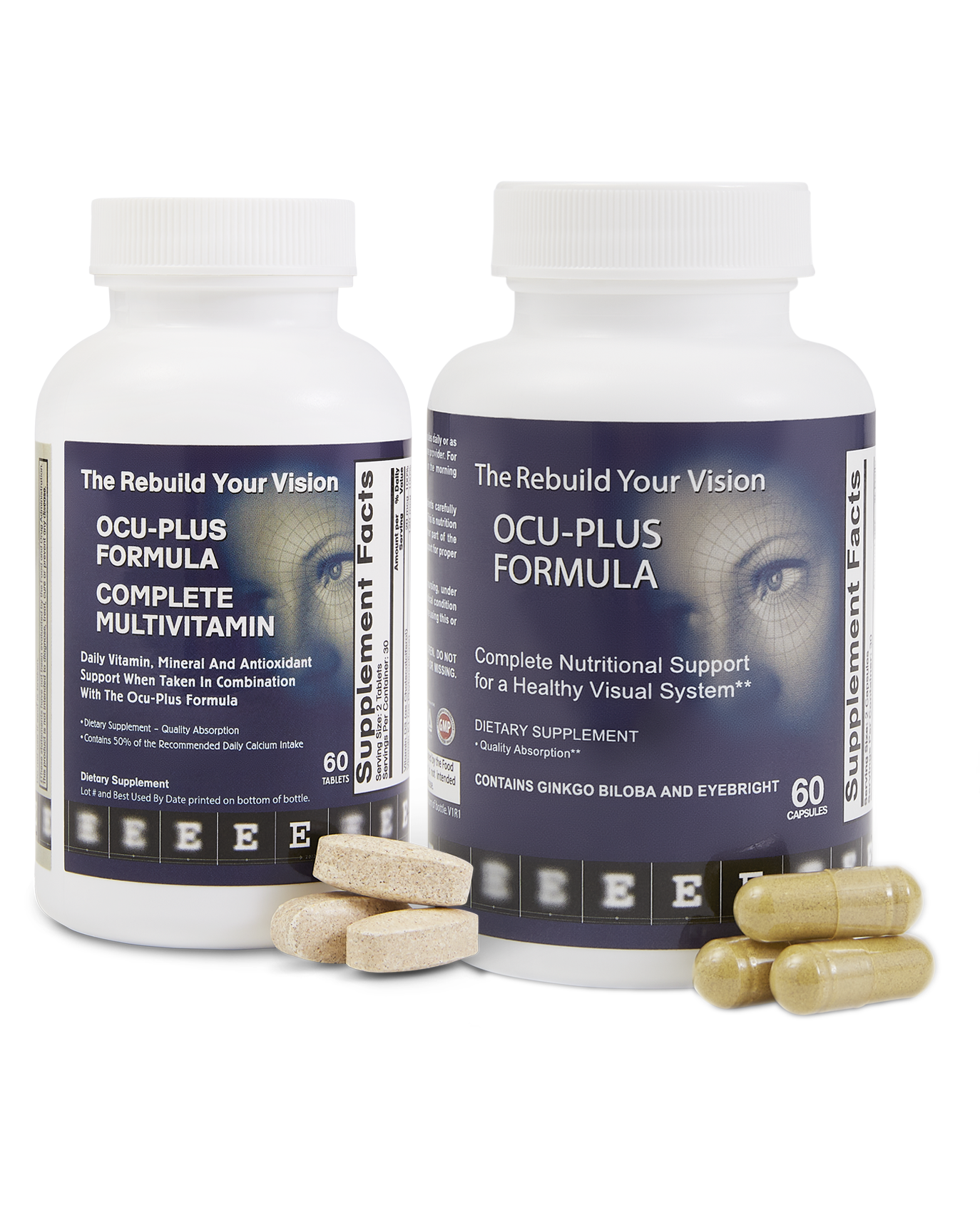 Don't worry, we got you covered. You can try the Rebuild Your Vision Ocu-Plus Formula AND the Complete Multivitamin together.Not only will you receive 1 free bottle of the Ocu-Plus Complete Multivitamin, but you'll get the Ocu-Plus Formula FREE Trial Bottle PLUS 3 Special Bonuses!
We know you'll be ecstatic with both, but you can decide if you want to continue with them after the first month. No strings attached!
or Call Toll-Free to Order: 1-877-733-4543
Your order will be shipped via U.S. Postal Service and will arrive to your front door in 3-5 business days.
To your vision – for life.
Sincerely,

Tyler Sorensen