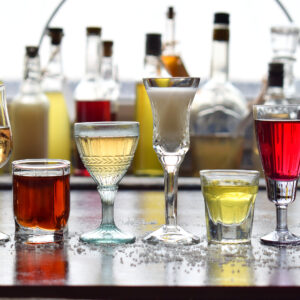 How Alcohol Affects Your Eyes
We all know alcohol can affect our bodies negatively, and these effects can be both short- and long-term. We are told to never drink and drive when we are in grade school. We've also seen the havoc too much alcohol can wreak on our liver later in life, if we aren't careful. But doe alcohol affect your eyes? The short answer is yes, alcohol affects your eyes. Just like anything else you put in your body, it can affect how well you see now and later in life.
But what exactly does alcohol do to our eyes? Alcohol can definitely have short-term vision-altering effects, but what about repeated exposure to alcohol? Are there any permanent effects that you need to worry about? Read on to gain a better understanding of how alcohol affects your eyes. You may want to think twice about your drinking habits!
Alcohol and Your Eyes
Consuming alcohol every once in a while will not have any real negative effects on your eyes. Everything in moderation, right? If you drink a little here and there, there may be some temporary effects such as dizziness and blurry vision, depending on how much alcohol you consume and how high your tolerance is. But any effects you feel while drinking will most likely go away, especially if you are not a heavy drinker. This is especially true if you take care of your body after drinking alcohol. You can do that by making sure you rehydrate well after a night out. Make sure you allow yourself enough time to sleep and recharge, too.
On the other hand, if you drink heavily or often, you are at a much higher risk for short-term changes in your vision as well as permanent damage. The more you drink in one sitting, the more likely it is that you will have blurry vision and dizziness. Again, moderation is key here.
Additionally, repeated episodes of heavy drinking can lead to some very serious eye conditions as drinking alcohol is very hard on the liver and, surprisingly, the liver and eyes are closely related. Everything is related in the body, which is why paying attention to your holistic health is so important.
Effects of Heavy Drinking on Eyesight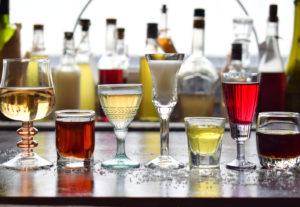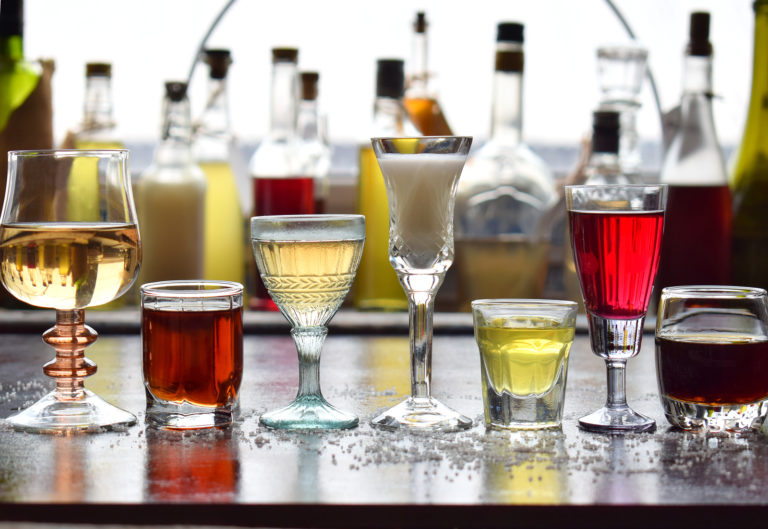 Drinking a lot of alcohol over a long period of time damages the brain and impairs its ability to function. Because of this, eyesight is also affected negatively. You can get permanently blurred vision or even double vision. These impairments are caused by the weakening of the muscles in the eye. Having impaired eyesight in this way can also decrease your reaction time.
Drinking too much can also alter your peripheral vision, causing you to have tunnel vision. Your pupils will also react more slowly, so they will not be able to constrict or open up as well. This can make driving very difficult since you can't react well to headlights.
Alcohol can damage your ability to see the contrast in colors. It will be difficult to distinguish between different shades of similar colors if your eyes have been damaged by alcohol. Another problem associated with too much alcohol is optic neuropathy.
Optic neuropathy can cause loss of vision (which will most likely be painless), decreased peripheral vision, and problems seeing colors. It is a more serious condition than some of the other effects described above. And, it's an ongoing condition that grows worse over time.
Migraines are also a result of drinking too much. These migraines can be accompanied by sensitivity to light and other related vision problems. Likewise, too much alcohol causes the blood vessels in your eyes to grow, making your eyes appear red and bloodshot.
Rapid eye movement is another side effect that can occur in those who consume too much alcohol over a long period of time. This condition is where your eyes move involuntarily back and forth. On the other hand, some people may experience a sort of paralysis of the eyes, due to a lack of necessary vitamins brought on by excessive drinking.
Shorter-Term Effects of Alcohol on the Eyes
Even when you have just a few drinks, your eyes do not function as well as when you are sober. Drinking just one drink can cause you to get dizzy or have blurry vision. You may see doubles of everything or see spots flash across your eyes. Alcohol affects everyone differently, so you need to be cautious.
Although somewhat debated, some believe that drinking reduces some of the antioxidants in your system – and these antioxidants are the ones that protect against eye diseases specifically. You may be at a higher risk of developing cataracts and other eye diseases if you drink heavily.
How to Avoid Alcohol-Related Eye Problems
You don't have to give up alcohol entirely to prevent these negative vision-related side effects. Drinking occasionally is not likely to cause any damage to your eyesight.
However, if you are a heavy drinker or have struggled with alcoholism in the past, you need to take control of your habits in order to save your eyesight (and your overall health, for that matter, but for now we'll focus on your vision!)
Practice good habits while drinking. Pace yourself and never drink on an empty stomach. Also, be sure to drink water in between your alcoholic drinks in order to prevent yourself from getting drunk. Limit yourself to one drink an hour and remember that one drink can equal a glass of wine, a shot of hard liquor, or a can/bottle of beer.
Be aware of how much alcohol is being put into your mixed drinks as well, and always ask if you are not sure what is in the drink. It is much better to be informed about the alcohol content of your drinks than to pay the price later!
Additionally, you should know your own limits. You need to be aware of how much alcohol you can handle and make sure you stay within that limit. You should also monitor how often you drink to your own personal limit (or over it). By taking these steps, you can still enjoy the social effects of alcohol while protecting your eyes.
Our Rebuild Your Vision Ocu-Plus Formula Contains All 17 Vitamins, Minerals, and Herbal Supplements to Improve Your Eye Health!