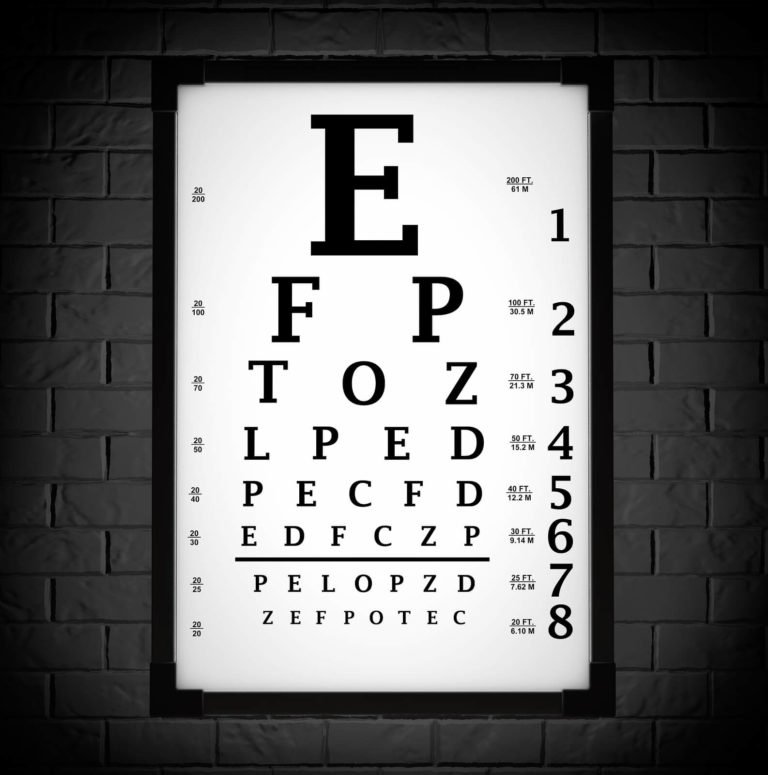 We've all seen those ads from eyeglass companies selling not only stylish prescription glasses but also the promise of 20/20 vision. This has led to the widely accepted notion that 20/20 is the best possible vision. After all, an eyewear company isn't going to sell its products on the promise of worse vision.
Not only seen in ads, but eye doctors tend to pat patients on the back for 20/20 vision. We nod, accept the recognition and go on our way without actually asking what that means. If it's a good thing, it's a good thing, right?
So, what does 20/20 vision really mean, and does it actually represent good vision? You'll agree that hindsight is 20/20 after you read today's post.
Visual Acuity: What Is It?
When we talk about 20/20 vision, we're actually talking about a person's visual acuity. Your visual acuity indicates the clearness and the sharpness of your vision. Visual acuity levels are typically based on three factors in the eye:
The sharpness of the retina's focus
The functionality and general health of the retina
The sensitivity of the brain in relation to the images being transmitted from the eye
Eye doctors measure visual acuity to ensure clear vision, but not for determining prescriptions or eye diseases. So, your visual acuity score may not actually have much to do with how well you can see. Many professionals have criticized visual acuity tests for being too subjective. They don't believe the test actually provides any useful and concrete information about a person's eyes.
Nevertheless, the Snellen Chart continues to be an optometrist's office staple.
Visual Acuity Tested: The Snellen Chart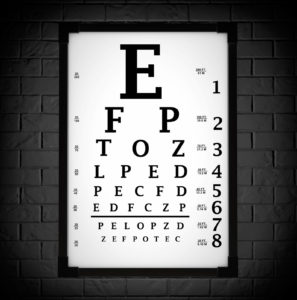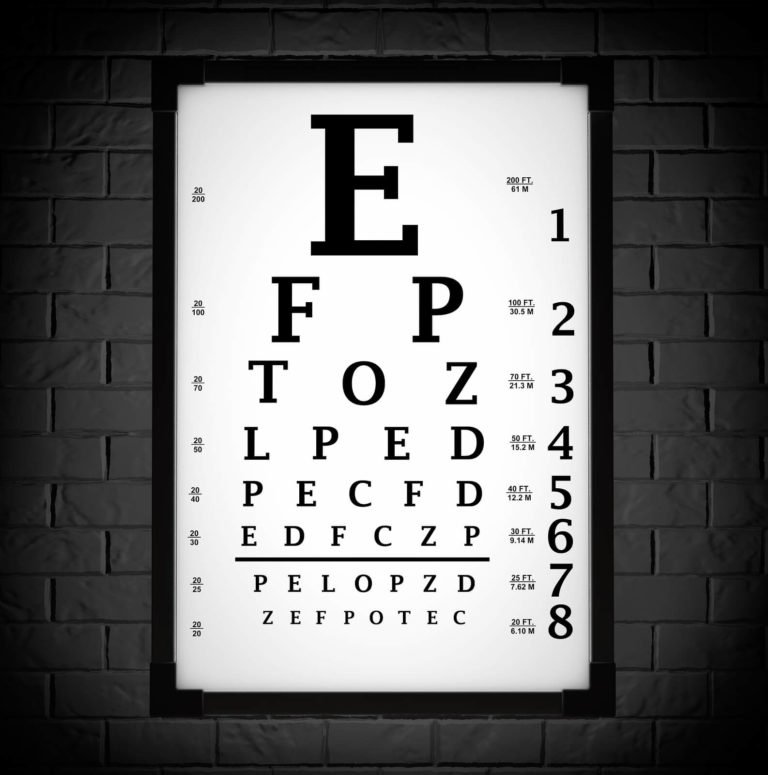 We've all seen the Snellen Chart at some point, even if we didn't know what it was called. Whether you've seen it in person or on TV, the Snellen Chart is a sure indication of an eye doctor's office. It is the most used technique to test for visual acuity. In fact, you may even use a Snellen chart in your yearly physical at your general practitioner's office.
To perform the test, your doctor will have you stand 20 feet away from the chart and read the letters on the chart out loud. As you can see in the image of the chart, the eighth line is the 20/20 vision line.
If a person can read that full line, then they have normal visual acuity, able to read what normal eyes should be able to read at 20 feet.
If a person, for example, manages to only read until line five which is 20/40 vision; it means that this person needs to be 20 feet away to see the letters that someone with normal visual acuity should be able to see from 40 feet.
The first line is often used when diagnosing someone with blindness. If someone fails to achieve a 20/200 vision, they are legally considered blind in the United States.
An alternative to the Snellen Chart is the Tumbling E Chart. The testing procedure is the same. However, instead of saying the letters aloud, patients use their fingers to point in the direction that the "E" is facing.
The Tumbling E Chart is often used to test young children who are not yet familiar with the alphabet or those who are unable to speak the letters for whatever reason. Studies have found that results rarely differ between charts and both are effective in measuring visual acuity.
Jaeger Eye Chart for Near Vision
A less-used visual acuity test is the Jaeger Eye Card. This eye chart tests your visual acuity at a normal reading distance. The chart is separated into seven small paragraphs with each paragraph differing in font size.
The test starts with the patient holding the test card 14 inches away from the eye. The doctor then asks them to read the paragraphs starting from the largest font until the patient can no longer read the words on the card. You can use both eyes, but no squinting (that's cheating)!
This test is often used to test the severity of the diminished visual acuity in those with refractive errors and presbyopia. This can help to understand how to better treat the problem.
Because the Jaeger Eye Card is not standardized like the Snellen Chart, font sizes may vary from doctor to doctor.
Importance of Visual Acuity Testing
Though 20/20 vision may not necessarily mean you have healthy vision, it is an important part of a comprehensive eye exam. A visual acuity test can tell your doctor if you need eyeglasses for seeing distance. From there, they will further test your eyes to find the correct prescription for you.
This type of testing is also very important for those with driver's licenses. The DMV regularly tests drivers for visual acuity. If you have trouble seeing at a distance, you become a danger to yourself and everyone else on the road.
The DMV requires a test result of at least 20/40 vision with both eyes together, and a minimum of 20/40 in one eye and 20/70 in the other. The DMV may issue licenses to people with lower visual acuity, but only if they have the proper eyewear.
Visual Acuity: What It Doesn't Tell Us
Visual acuity is important to a comprehensive eye exam, but it is by no means an accurate representation of healthy vision.
The basic eye test fails to detect eye diseases like glaucoma, diabetic retinopathy, dry eyes and the general health of your retina. To test for these things, your doctor will need to dilate your pupil and take a look inside the eye. If you've been a Rebuild Your Vision reader for a while, you know how much these issues can affect your vision permanently if not detected early.
The lesson here: don't rely on your DMV to tell you if you have good eye health. They may be good enough to drive, but the eyes often show no signs of distress until it is too late to prevent or cure diseases.
To be safe, you should visit your eye doctor for a comprehensive eye exam once every two years or once a year if you have an existing condition or are over the age of 60.
Our Rebuild Your Vision Ocu-Plus Formula Contains All 17 Vitamins, Minerals, and Herbal Supplements to Improve Your Eye Health!