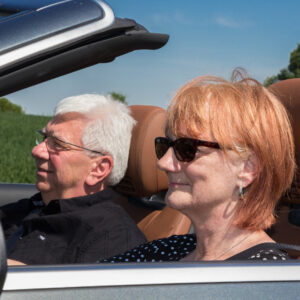 Presbyopia (Aging Eyes) and Driving
Sadly, it's an unavoidable fact that as we age, most of us will have trouble with our vision. This becomes even more evident when it comes to aging eyes and driving. Do you remember how excited you were when you got your first driver's license? You went through all the training, passed the vision test, and the road test. All that work to receive a little plastic card that proved you knew the rules of driving safely.
As we age, our eyes and our memories can begin to fail us. It can reach the point where we are no longer able to pass all these tests. There are some signs during driving that your vision may be deteriorating. So, ask yourself if you have begun to have difficulty. These are the common areas you may start to experience trouble:
reading road signs
problems telling red and green traffic lights apart
Sound familiar? Don't worry, you're far from alone. Many people over the age of 65 are having the same problems. Many younger people are also experiencing these problems as well.
Dealing with Aging Eyes and Driving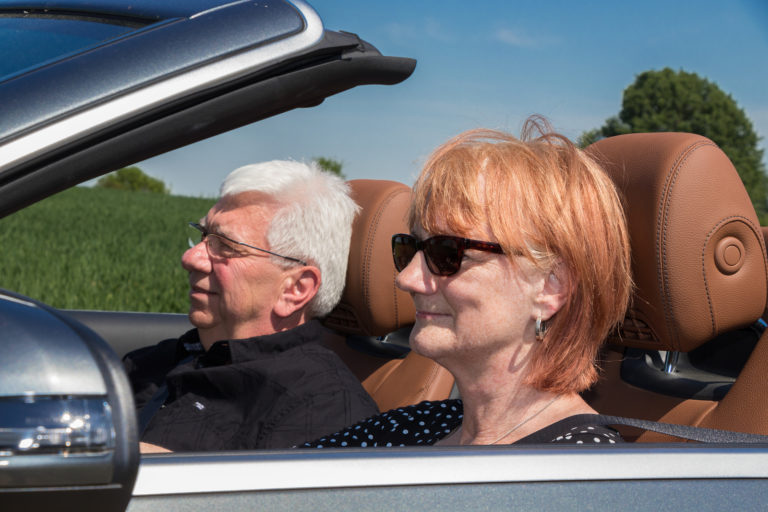 In the US, over 50 million Americans are over the age of 65 thanks to the Baby Boomer era. Many states have begun to revise their vision screening for elderly drivers. They're making testing stricter to make sure older drivers are safe drivers.
Driving regulations and the vision screenings required have been a matter of state law. This means that they vary considerably from one state to another. Some examples of this are:
Florida only requires a standard vision of 20/70 in at least one eye with or without eyeglasses. If applicants have a clean driving record, they may renew their license by mail and may not have to take the vision screening test. But, drivers over the age of 80 are retested every six years.
In Vermont, a vision test is only given when someone initially applies for a driver's license, but not when they are renewing their license.
Arizona issues a lifetime license for drivers up to age 65. But, all applicants must visit a licensing office every five years to apply for a duplicate license and have their vision retested.
In Iowa, whether a driver is first applying for or renewing a license, they must take and pass a vision test. All drivers must renew their license every four years until age 70, at which point the renewal cycles changes to every two years.
One of the problems with knowing when you should give up the wheel stems from understanding just how much your vision has changed. In most cases, vision deteriorates slowly, making it difficult for people to realize just how bad their eyesight has become. It happens so gradually that it comes as a shock to many older drivers when they realize they just can't see the road anymore.
Some states are taking steps to increase vision testing for older drivers. This is to ensure that their vision will not endanger themselves or others while driving.
In California, strict rules have been applied to ensure senior drivers don't pose a threat on the road. To renew their license, they must come to a DMV in person to be assessed. The DMV employee will ask them to complete a vision test with a wall chart. If they fail this test, a second test using a machine will assess visual acuity. Then, if you fail that test, you will need to see your ophthalmologist for an eye exam. They will either give you a form that says you've passed, or they won't. In the case you don't pass your eye doctor's exam, your license is suspended. In addition to the extensive vision testing, you will also need to complete a driving test at the DMV.
This isn't just happening in California. In many states, older drivers now must renew their driver's license more often than younger drivers. They may also have to take a vision test each time they renew their license. This is not a case of state's discriminating against older drivers, although some people may feel this way. This has become a widespread problem and these states are attempting to ensure the safety of their older residents.
Insurance companies are also becoming involved with the issues raised by deteriorating vision in older people. AAA has designed a program for seniors called "Roadwise Driver." It teaches seniors, online, how to safely extend their driving careers. The program provides feedback so that the person taking it can make a more informed decision on their ability to drive safely.
What You Can Do to Prolong Your Vision
You don't have to lay down and wait for your vision to get worse. There are many things you can do to keep it strong and healthy. Some of the problems experienced by older drivers can be prevented with simple changes in their diets. Eye vitamins can help them regain their visual acuity. There are also certain things you can do to help you drive better at night.
The sooner you change your diet to include the nutrients that can help your eyes retain their strength, the better. It's never too early to start an eye healthy diet. If you don't have the time for an extensive change in the foods you eat, you may want to consider a good eye vitamin or eye supplement instead. The important thing is to get the nutrients that your eyes need to stay healthy as long as possible.
Eye vitamins can also help strengthen your vision so that it's easier to read road signs and focus on blurry objects. The first step is to realize and admit to yourself that you are experiencing some vision problems. From there you can begin to work on a solution. You should speak to your eye doctor as soon as you begin to suspect that your vision is deteriorating.
Do you really want to be responsible for endangering those in the car with you? Or other vehicles on the road? Don't take chances with your vision!
Our Rebuild Your Vision Ocu-Plus Formula Contains All 17 Vitamins, Minerals, and Herbal Supplements to Improve Your Eye Health!