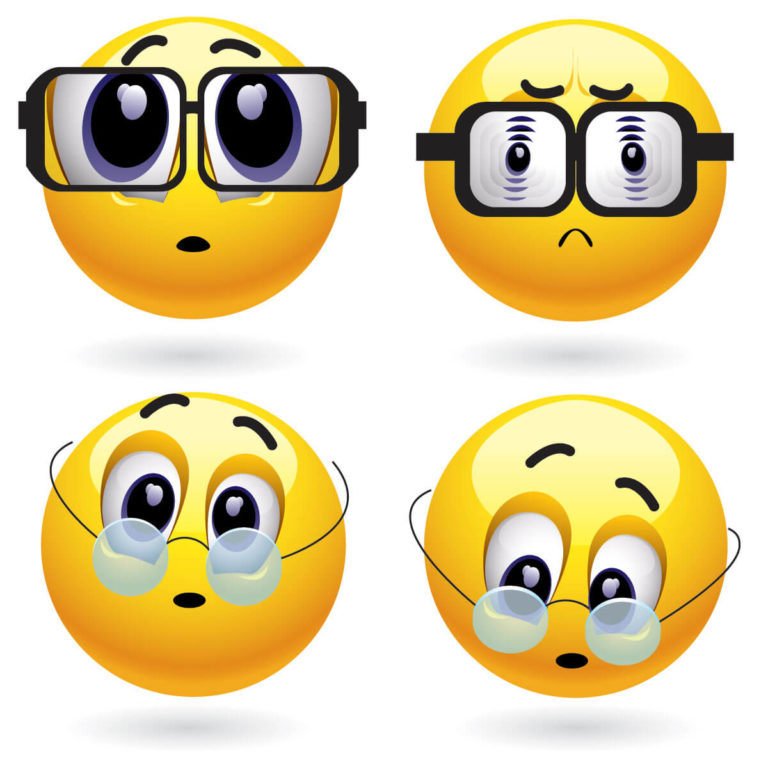 The Myth of Eyeglasses: Can They Hinder Your Eyesight?
There's a vision myth circulating our communities. Folks with less than perfect eyesight usually look to visiting an optometrist and ordering expensive eyeglasses to solve their vision problems. A few weeks and a few hundred dollars later, they can "see again" with the help of their stylish new glasses.  
Many people even think they can see "as good as new" with the help of their new frames.
However, this is one of the biggest myths about eye health out in the open today. Glasses are actually only a temporary way to get from point a to point b – they are not the 20/20 vision destination. Let's take a deeper look into the myth of eyeglasses. 
Why Do People Wear Glasses?
There are many reasons doctors prescribe glasses. Some of the most common are blocking blue light, myopia, hyperopia, and astigmatism. 
What About Blue Light Glasses?
With the unavoidable influx of technology in the workplace, more people than ever are starting to worry about issues like Computer Vision Syndrome. CVS is caused by sitting in front of the computer for too long each day. Symptoms include itchy, burning eyes, headaches, and blurred vision. 
There are ways to prevent issues like CVS. Some computer users turn to blue light blocking glasses to protect their eyes. Studies show that frames with this special film can be effective in protecting your eyes from computer-related issues. 
So, while some blue light blocking frames might be a good item to keep in your desk drawer, the jury's still out on prescription blue light glasses. And, as we've said before, prescription glasses aren't all they're cracked up to be. 
Myopia
Myopia, or nearsightedness, is one of the most common reasons people start wearing glasses. This eye condition is caused by either the eyeball being shaped too long or the cornea not being curved enough. Individuals with myopia can usually see objects up close clearly, but their distance vision is blurred.
Glasses can help correct myopia when you are wearing them, but they aren't a long-term solution. Think of glasses as more of a band aid fix – they'll help in the short run, but they won't do anything to permanently correct your vision.  
Hyperopia
Hyperopia, or farsightedness, is another common reason that doctors prescribe glasses. It's essentially the opposite of myopia – instead of being too long, hyperopic eyes are often too short in structure. This causes farsighted individuals to struggle to see objects like phone screens up-close. 
Some people will turn to reading glasses to alleviate symptoms of hyperopia. But again, glasses only do just that – treat the symptoms. They do nothing to help permanently correct your vision. 
Additionally, farsighted individuals may find those cute, inexpensive dollar store readers a convenient replacement for going in for an eye exam. Skipping those eye exams can have some catastrophic results. Annual comprehensive eye exams are essential for ensuring that you don't develop more serious eye issues like AMD. 
Astigmatism
One of the most commonly misunderstood reasons that people start wearing glasses is that they are diagnosed with astigmatism. Simply defined, astigmatism is an imperfection in the shape of your eye's cornea, or lens. 
When this imperfection occurs, it impedes the way light is refracted into your eyes, preventing you from seeing clearly. Doctors don't know what causes astigmatism, beyond the fact that it seems to be passed on genetically. What we do know is that astigmatism can cause blurry  and distorted vision.
Many people just start wearing glasses to correct their astigmatism. However, glasses can't always solve this problem – in fact, if your astigmatism is too severe, eyeglasses will not allow you to see with 20/20 vision. So what's the point in wearing them? 
Wait… Eyeglasses Are a Myth?
In many ways, yes. Though glasses don't actually help you to see better in the long run, when you put them on they do help you to see things you wouldn't normally be able to see.
Most folks don't question the idea that glasses are the answer to all vision problems. After all, they are reliable and accepted – just think of how many people you know who wear them.
But if glasses aren't the best answer, what is?
Adjusting Your Eyes to a New Prescription
If you've been diagnosed with vision problems, you've likely been prescribed eyeglasses.
Maybe you're wondering this: what, exactly, happens when you slip on your new frames?
Let's take a brief look behind your lenses. Glasses are made to correct your refractive error. They aren't a match made in heaven with your eyes as your eyesight is always moving (eyes are the most used muscle in the body!) and glasses make up for your refractive error in an unmoving and static way.
The time of day when you went in for your appointment also impacts the prescriptions the doctor creates for you. If it was nighttime when you visited your doctor, your glasses will be prescribed for eyes that are adjusting to low-light conditions. The same goes for if you visit your optometrist in the middle of the afternoon. This is yet another reason why glasses may not be the best option for vision correction.
The Inflexibility of Eyeglasses
Ever had to break in a new pair of glasses, as they felt funny or not quite right for a few days? This is just one of the reasons the benefits of eyeglasses are more of a myth than you might think. 
That's your eyes adjusting to the inflexibility of prescribed lenses. While this won't cause any significant permanent damage to your eyes, it's certainly uncomfortable. 
Correcting the Myth: Alternatives to Eyeglasses
Luckily, you have choices other than forcing your eyes to break into glasses or undergoing the expense and potential complications of LASIK surgery. Eye exercises are one way to help train your vision. Also, eye vitamins offer some natural alternatives that you may want to explore.
Eye Exercises
In today's health-focused society, you can't escape the fact that exercise is good for your body. You hit the gym for leg day or cardio, but have you ever thought about exercising your ocular muscles too? 
Believe it or not, people are actually starting to participate in activities like eye yoga – and it's providing real results. A recent study published in the International Journal of Yoga found that optometry students who had previously been experiencing eye fatigue found significant relief after completing ocular yoga exercises. 
Ocular yoga might include exercises like eye rolling, eye focusing, and palming. There are also specific eye exercises for myopia like eye-finger exercises and pencil exercises. Hyperopia exercises include conscious blinking as well as palming and eye rolling. These exercises are just one alternative to the myth of eyeglasses.  
Vitamins and Supplements
Scientists are continually finding more reasons to invest in eye vitamins. In fact, Nutrients recently published a study that touted the benefits of crocetin, a compound commonly found in saffron. The research proved crocetin's ability to prevent myopia progression in mice. 
Crocetin's cancer fighting properties are already causing waves in the health industry. Unfortunately, this myopia study has not been extended to human subjects yet. But, it is certainly something to watch for in the future. 
Of course, saffron is known for being expensive, but luckily there are plenty of supplements you can take to support good vision. We may be biased, but we believe that the Rebuild Your Vision Ocu-Plus Formula is one of the best on the market. 
The Rebuild Your Vision Ocu-Plus Formula
The Rebuild Your Vision Ocu-Plus Formula combines 17 of the most essential vitamins, minerals, and nutrients for eye health. Some of these nutrients include Vitamin C, Vitamin A, and Omega-3s – vitamins that are not only good for your eyes, but are good for your overall health! 
By changing your diet, and incorporating eye vitamins into your daily routine, you can really do wonders to improve your vision naturally. It seems that prescription eyeglasses may be more myth than fact after all. 
Our Rebuild Your Vision Ocu-Plus Formula Contains All 17 Vitamins, Minerals, and Herbal Supplements to Improve Your Eye Health!