No, we're not talking about floating eyes; a funny name maybe, but sometimes a big nuisance. If you've had them, you know what we're talking about, but if you're a little confused right now, there's a simple test to see if you've got eye floaters – go find a blank surface, such as a white wall, or even a blue sky, and stare at it for a bit. If you see some funny specks and squiggles, then you've got some eye floaters.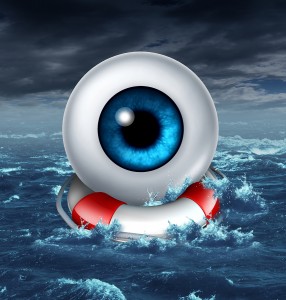 Relax, if you have to work to see them, floaters aren't much of a problem. Many people of all ages experience them and in most cases, they're more of a curiosity than they are anything else. Even if they are a little alarming, they're rarely cause for concern.
Of course, there are exceptions. Myopic people can have particular difficulty with floaters and some, particularly older individuals, can even have enough of them to obscure vision and blur incoming light. Also, if you see a very, very sudden increase, it's time to call for medical help, as that bump is one sign of a detached retina, a bona fide vision emergency.
In other words, those of you currently watching some stringy, transparent shapes, you probably don't have much cause for alarm. However, you may have some questions about exactly what it is you're looking at right now.
Floater Facts
Floaters can take on some fairly alarming shapes. Enough so that they drive a decent number of people to seek medical attention after noticing them. But odd as they are, they have a very benign explanation. At root, floaters are small imperfections in the vitreous humor, a normally clear layer of jelly-like material that fills the eye.
As we age, the vitreous humor begins to shrink. When it does, it has a tendency to become "stringy" and develops small deposits. When light hits these, they in turn cast a shadow on the retina, the light-sensitive membrane at the back of the eye. And that's how we wind up seeing floaters in the eye, which are often described as worm-like or stringy in appearance.
An awful lot of us have these, with percentages increasing in older populations and, for the most part, they're benign. However, it's certainly possible for floaters to become a larger problem. If the vitreous humor becomes significantly clouded, floaters can start to cover a field of vision – doubly a problem as they tend to move with the eyes, making them a particularly distracting visual disorder.
Eye Floater Treatment
If floaters become dense enough, the next step is treatment or removal. There is a surgical solution: physicians can perform a vitrectomy by removing floater-filled vitreous humor, then replacing it with a saline solution.
An effective remedy, but also a dangerous one. Eyes are sensitive and don't take well to highly intrusive surgery. Vitrectomies can cause an enormous number of complications. Some of these, such as infection, are common to all surgeries. However, vitrectomies also carry a few more unique risks, including retinal detachment – a serious effect that can result in blindness. Many patients will also develop a cataract, or a clouding of the eye.
Because of these effects, most of which are serious enough to offset the benefits for the average patients, physicians are extremely loath to turn to vitrectomies to fix floaters. Only truly serious, vision-damaging cases are ever referred this far and for most of us, a better bet is to turn to less invasive, gentler means of management.
Natural Management of Floaters
Perhaps the simplest treatment for most eye floaters is to ignore them – sudden increases should be cause to seek medical help and serious cases can wind up legitimately hampering vision, but for the average individual, floaters will never be much more than an occasional nuisance.
Rapidly moving eyes up and down or left to right can help "flick" floaters away from the center of your field of vision. Their free-floating state makes this movement work. The vitreous humor, and the floaters inside it, moves precisely with your eyes, but will keep going even after eyes stop, thanks to momentum. Fast eye movements concentrate floaters away from the sensitive center of your field of vision, making them much easier to handle.
Some individuals use hyaluronic acid to help clear up floaters. Hyaluronic acid, also called hyaluronan, does have a history of use as a recovery agent following eye surgery; however, it doesn't have much of a proven track record as a floater fixer. Plenty of empirical sources swear by hyaluronic acid, but use caution if you do want to try it; there's also no real understanding of its side effects when used to deal with floaters.
You're also likely to see sites advertising herbal cures for floaters. Take these with a grain of salt – again, most will have plenty of empirical evidence to back them up, but very little in the way of proven effects. Many are also liable to be extraordinarily expensive. Antioxidants in particular are often marketed as cures, and while they are good for your eyes, they don't really have much merit as far as floaters go.
Long story short: give cures some thought before you buy them. Keep the underlying causes of floaters in mind and be on the watch for pseudoscience. At the end of the day, your best bet is almost always to let them work themselves out. Only start hunting for cures if you notice them having a consistent effect on your vision.