If you are currently suffering from astigmatism, then you already know, and all too well, that the main symptom of this condition is blurry vision.
If you love to read or if your job entails working on a computer for hours, you already know how irritating and stressful it can be to have your vision blur. Your eye doctor may have already suggested that you have surgery or stronger eye glasses to combat this condition. There is a third option you may want to consider. Eye exercises and eye vitamins can help to strengthen your vision and correct the problems caused by astigmatism.
Astigmatism is caused by the front surface of your cornea not curving the way it should: usually one side will be more flat than the other. Light tries to pass through the cornea but because of the incorrect curving, the light does not pass through evenly and this results in the blurry vision you may be experiencing.
Believe it or not, eye exercises can help you with your astigmatism. The idea of exercising your eyes may seem strange to you, but if you think about it your eyes have muscles that need exercise to remain strong just like the rest of your body. When you look at it that way it only makes sense that exercising your eyes would be a good idea.
Just as your body may need physical therapy to recover from an injury, your eyes may need a little TLC to get back on track. Below are three exercises you can do at home to work on your astigmatism.
Don't Give Up!
Exercising your eyes can improve your vision; however, just as with any kind of exercise it takes some time for the results to appear. Exercising your vision is not an overnight cure, but it can have wonderful results.
Yes surgery may offer faster results, but do you really want to go through the expense and pain of eye surgery when a few simple and even fun to do exercises may cure the problem?
Remember that eye exercises take time to start working as our bodies respond to workouts slowly but surely as we get stronger and stronger. One of the main issues people have is sticking to the exercise program. It can be frustrating because it is often difficult to measure the improvement in your vision.
Library Science!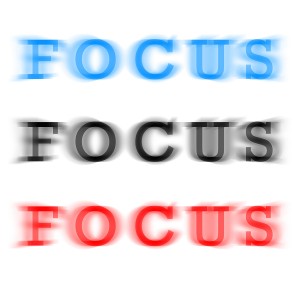 A simple exercise to start retraining those eyes of yours is to read. OK… it's a tad bit more complex than just picking up a good thriller and settling in for the evening. Here's what to do:
1. Start without any corrective lenses (be sure you are in a safe, seated position if need be!).
2. Start by reading some text in a book (or an eye chart if you happen to have one). Next, avert your gaze to a different object (like a book or playing card).
3. Switch back to the text you were reading and resume reading.
4. Again, switch to the other object and focus for a moment before switching back to the text.
5. Continue this on and off focusing/switching for a few minutes or until your eyes are tired.
Try not to strain while doing the exercise. If your eyes become sore and tired take a break from the exercise. You can always go back to it when your eyes have rested. As you progress with the exercises you should find that you can continue for longer periods of time before your eyes become tired. This provides one way for you to see that you are really making some progress.
Check Your Head
Because people with astigmatism tend to tilt their head in one direction or another (they have an inaccurate perception of what looking straight ahead is), you can help correct your condition by being conscious of this. If you feel like tilting to the left or right, try tilting your head in the opposite direction of what feels most comfortable. Don't worry if you catch yourself tilting at times, just try and correct it when you do notice it.
It takes some time to get used to paying attention. Our body wants to automatically compensate for the vision problem and it becomes a habit. As with most habits this one can be difficult to break. However, if you correct it each time you notice it you can retrain your body, it just takes a bit of time and patience.
Fun with Paper
Who says exercising can't be fun? If you want to try something a bit different, here's a good one for you!
This exercise is aimed at strengthening your peripheral vision.
Get a piece of paper that is long and wide enough to cover both of your eyes. You want the paper to be long enough to cover your eyes but not block your side vision. You may want to use a thick paper like construction paper for this exercise. Ok, now that you have your paper ready, follow these steps (remember to always do eye exercises when you are safe and comfortable):
1.  As in the first exercise we spoke of, start without wearing any corrective lenses.
2. Using a piece of tape attach the paper to your forehead just above the bridge of your nose. Remember, you want the paper to block your forward vision while allowing you to see from the corners of your eyes.
3. Next, raise one hand up to the side of each eye (where the paper ends).
4. Try, without moving your head, to see each finger on one side from the eye on that side.
5. Now, move on to the other side and do the same.
6. Continue to do this for a couple of minutes or until your eyes are tired!
By including these simple eye exercises into your daily routine, you can strengthen your eyes and improve bad vision due to astigmatism. You don't have to resort to eye surgery or surrender to a lifetime of eyeglasses – there are completely natural and easy ways to repair your vision yourself with eye exercises and a daily eye vitamin, all it takes is just a little time and effort!
5 Easy Ways to Improve Your Eye Health Now
Signup Now to Receive My Free Email Series on Improving and Preserving Your Eye Health Naturally.