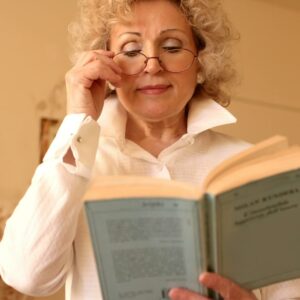 Eye Exercises for Presbyopia
Do you find yourself reaching for your reading glasses every time you want to use your phone? What about when you need to read a menu? Has this condition worsened or even only appeared with age? If you have difficulty seeing objects that are close to your face in your golden years, you might have presbyopia. This eye condition is primarily caused by a loss of strength in the muscles that control the lens of the eye.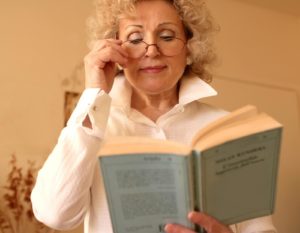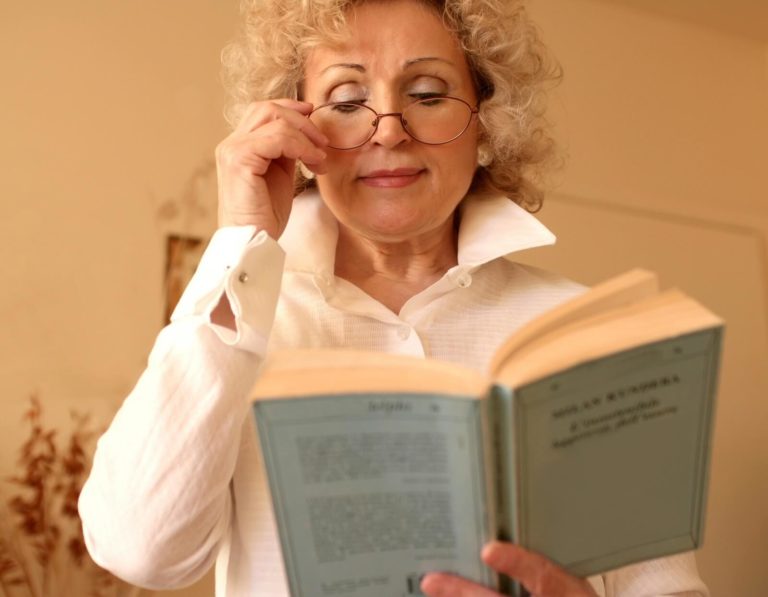 Luckily, there are some presbyopia eye exercises you can do to help regain some of that muscle strength. But before we introduce some of those, let's learn a little more about this condition and its symptoms.
What Is Presbyopia?
Unfortunately, presbyopia is an incredibly common condition: four million Americans develop it each year. More often than not, this condition is brought about by the aging process. Just as the rest of the body starts to succumb to the effects of aging at some point in our lives, our vision is no different.
Some of the symptoms of presbyopia can include:
Difficulty focusing on objects near to us
Difficulty seeing things in dim light
Eyestrain
Difficulty focusing on small objects and fine print
As your vision gets worse, you will want to find ways to treat the problem. While the go-to answer is usually eyeglasses or contacts, corrective lenses can actually make your eyes worse. As you start to use corrective lenses to help with presbyopia, your eyes will continue to lose muscle strength. Eventually, you will need to get stronger and stronger lenses.
In some instances, people even turn to surgery to help. However, this can not only be costly, it might be ineffective and even cause some nasty side effects. As with any surgical procedure, there is a possibility that something could go wrong and you might be unfortunate enough to lose your vision altogether.
There is another option for people that don't want to go down either of these two routes listed above: eye exercises for presbyopia can help you to improve your vision naturally.
Presbyopia Eye Exercises
Before we start looking at the individual exercises that can help, you'll want to make sure that you are getting enough vitamins and minerals in your diet to maximize the benefits of doing vision-corrective exercises.
By getting enough of the right nutrients in your diet, you can keep your body, including your eyes, in better condition for longer. There are even certain nutrients you should focus on to help fight presbyopia.
If your diet isn't ideal and you're not getting the best vitamins and minerals to help with your vision, you should consider taking supplements. This will ensure that your eyes are getting the best support from your body to stay in the best condition for as long as possible.
Unlike other eye issues, presbyopia can be treated by doing exercises at home on your own. All these exercises concentrate on strengthening the muscles that control your focus. Just like strengthening any other muscle in your body, this happens by flexing, relaxing, and making the muscle work harder than usual.
Warm-Ups
Before you start with any exercise, you need to do some warm-up exercises. Use this warm-up to loosen the ocular eye muscles and improve blood flow to the surrounding parts of the eyes. This in turn will increase the amount of oxygen that is getting to your eyes and help to improve your vision.
Close your eyes and rotate them 10-15 times in a clockwise direction. When you have finished, do it again in a counterclockwise direction. Ensure that you do this before you start your exercises and keep your eyes closed while doing it.
After the warm-up, open your eyes and allow yourself a moment or two to regain your focus. You're now ready to start the next few exercises.
Distant Object Focusing
For this exercise, you need to hold something close to your face, about six inches or so. This should be something small like a pencil or your index finger. Focus on that object as best as you can for about a minute and a half. Then change your focus onto something about ten feet away, but don't change the direction of where you are looking.
Once your focus is clearly on the distant object, go back to focusing on the object close to your face. Again, look at it for about 90 seconds.
Repeat this process five or six times. You can also use the 10-10-10 Rule to work more on this type of exercise.
Arm's Length Focusing
The premise for this exercise is the same as the distant object exercise. Here, you need to extend your arm away from your body and put your hand into the 'thumbs up' position. Focus on your thumb and then slowly bring your thumb towards your face and keep your thumb in focus.
When it gets too difficult to focus on your thumb, then move your arm slowly back out to the extended position but continue to stay focused on the thumb.
Keep going for about three to five minutes. Never take your focus away from your thumb.
Clock Face Exercise
Complete this exercise last and use it as a cool-down exercise. Imagine that you have a clock face in front of your eyes. Move your eyes vertically from 6 to 12 o'clock. Do these movements 20 times. Then move your eyes from 9 to 3 o'clock. Again, do this 20 times.
After doing this exercise, you should close your eyes and let them rest for a while.
Eye Exercises for Presbyopia
By completing these basic eye exercises and ensuring that you're getting enough vitamins and minerals, you can enjoy better vision for many, many years to come. As we begin to get older, our eyes will naturally start to deteriorate. Presbyopia is incredibly common as we age. To combat this natural process of aging, do these simple exercises every day. They should take you no more than 20 minutes a day and can really improve your life as you age.
Our Rebuild Your Vision Ocu-Plus Formula Contains All 17 Vitamins, Minerals, and Herbal Supplements to Improve Your Eye Health!