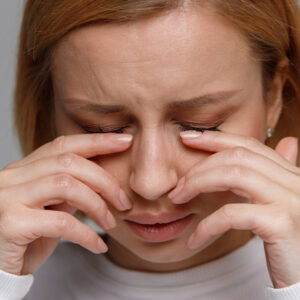 Dry Eyes: Causes and Treatments
When do you usually cry? Is it when you're sad or happy? Do you sometimes shed a few tears when watching a movie or reading a book? Some people cry when they're angry. Many strong emotions can bring on tears. People often cry when they are in pain. Unfortunately, sometimes people struggle with not being able to produce enough tears. This can be incredibly frustrating and downright painful. When the eyes don't get enough lubrication from tears, it's called dry eye syndrome.
Thank Goodness for Tears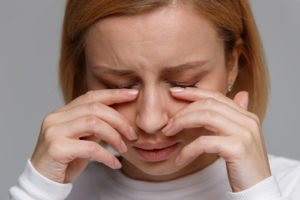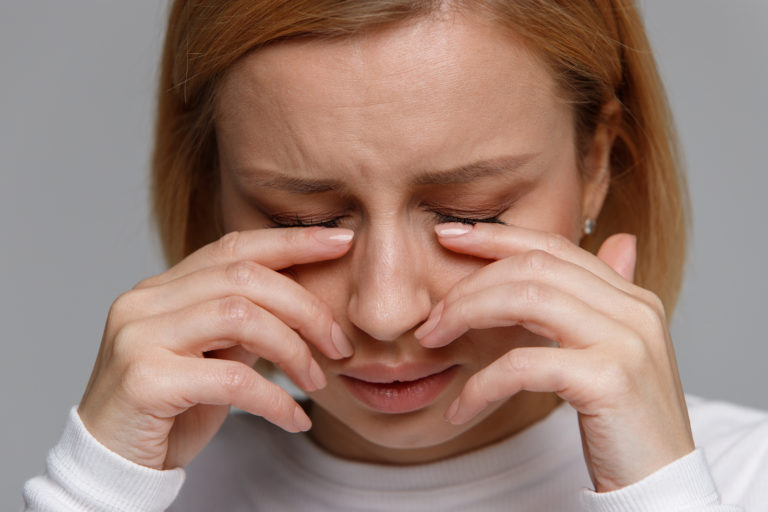 Shedding tears is a necessary process of a healthy eye. Tears protect, lubricate, clean, and nourish our eyes. However, not all tears are equal. Some lubricate, some cleanse, and some remove excess hormones from our bodies. Amazingly, our eyes seem to know which kind of tears are needed at any given time.
Dry eye syndrome occurs when there are problems with our tear ducts. The ducts that drain the excess tears from our eyes may drain too much too quickly. Or, there could be problems with the tear duct itself that prevents the production of the right kind of tears. When our eyes become too dry it causes damage to the outer covering of the eyes. Tears carry oxygen and nutrients to the cornea and carry away waste products of the eye.
Did You Know that Not All Tears are the Same?
There are three main types of tears:
Basal tears: These surprisingly complex tears lubricate the eye and remove dust. Basal tears are made up of a variety of substances such as lipids, sodium, glucose, potassium and an enzyme named lysozyme which is also found in saliva. Some of these substances are responsible for fighting against bacterial infection in the eye.
Reflex tears: We produce reflex tears when foreign particles enter the eye. Foreign particles could be dirt, dust, gases, or harmful liquids. These tears protect the eye by flushing out foreign materials.
Emotional tears: As the name implies, we produce these tears when we feel pain, stress, or other strong feelings. These tears are made up of different chemicals from other tears and may be our bodies' way of removing excess hormones.
While crocodile tears are not real tears, there is a condition called Crocodile Tear Syndrome. People recovering from Bell's palsy may suffer from this. It results from incorrect or incomplete regeneration of the facial nerve that controls the salivary and tear glands. People suffering from this will quite often cry when eating.
Sometimes our tear ducts drain the needed basal tears too quickly so that they do not have time to fully lubricate the eyes.
Dry Eye Syndrome Problems
People suffering from keratitis sicca or "dry eye" know how important the right kind of tears can be. Dry eye causes burning, itching, stinging, light sensitivity, or blurred vision. The wrong kind of tears can actually make these symptoms worse.
Your eyes may feel gritty or scratchy. Strangely enough, this condition may cause reflex tears which are no help at all because they do not contain the lubricants that the eye needs. This can confuse people because their eyes are producing tears. They do not even consider that they may be suffering from dry eyes.
One of the main causes of dry eye syndrome is the decrease in tear production as we age. However, it can also be caused by reactions to some medications, like antihistamines.
Environmental factors such as wind or smoke can also cause dry eye. Dry eye syndrome has been associated with contact lenses and LASIK surgery – one more good reason to try the Ocu-Plus Formula. In fact, one of the most often reported side effects of LASIK surgery is dry eye syndrome.
Another contributing factor can be air conditioners and heating systems. These can dry the air in your home or office. Try setting your air conditioner to a slightly warmer setting and adding a humidifier if you notice signs of eye irritation. Make sure that the filters are changed regularly so that dust and allergens are effectively removed from the air.
Treatment for Dry Eyes
Currently, there are three main treatments for dry eye:
A prescription drug called Restasis: This drug is supposed to help your eyes produce the basal tears that are needed for lubrication. It may take some time to be effective but it has proven to be a successful treatment for some people.
Artificial tears: There are many types of eye drops sold over the counter that can help with dry eye syndrome. You may have to try several before you find one that works well for you. If one type or brand of eye drop doesn't work for you, keep trying others until you find the one that does.
Insertion of plugs in the tear duct to block drainage: These temporary plugs help to see blocking the drainage port makes a difference. If they do help, there are permanent plugs that can be inserted. However, even with the permanent plugs, there is a chance that they may fall out. You may have to have them reinserted if this happens.
If you think that you could be suffering from dry eye syndrome talk to your eye doctor.
Allergies Can Mimic Dry Eye Symptoms
If you suffer from allergies, it is possible that you will experience some of the same symptoms that a person suffering from dry eye syndrome experiences. Allergies often cause red, sore eyes and they can make your eyes feel scratchy. Allergy medications often contain antihistamines which can actually be one cause of dry eyes.
If you have any suspicion that you may be developing dry eye syndrome, contact your eye doctor immediately. Untreated, dry eye syndrome can damage the eyes or even cause vision loss. You don't have to allow your eyes to hurt and feel irritated; your eye doctor can help.
And, if you think that you cry too much, be thankful. There's no need to be embarrassed by your tears, just be glad that they're working!
Our Rebuild Your Vision Ocu-Plus Formula Contains All 17 Vitamins, Minerals, and Herbal Supplements to Improve Your Eye Health!