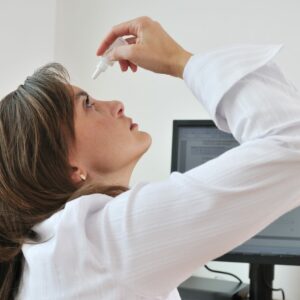 Chronic Dry Eye Becoming a Serious Problem
Chronic dry eye is a condition that occurs when your eyes don't produce enough tears. And it can cause sufferers to experience itchiness, blurred vision, sensitivity to light, irritation, and many other symptoms. Dry eye can be caused by anything from environmental factors like excessive heat or wind to taking certain medications. It is also associated with certain illnesses.
One of the most common reasons for chronic dry eye these days is spending too much time staring at computers, TVs, smartphones, and tablets. Untreated or improperly treated dry eye can lead to eye infections or even other vision problems. There are many treatments for chronic dry eye, most of which you will need to speak to your eye doctor about, but you can also use artificial tears or try eye vitamins designed to keep eyes and vision healthy and strong. Keep reading for more information about this condition and what you can do to prevent it. Your future eyes will thank you!
Who Is Most Affected?
Millions of people in the United States are affected by chronic dry eye, and women make up the majority of those millions. Often, chronic dry eye in women is brought on due to hormonal changes such as menopause, pregnancy, and aging.
However, recent studies are finding a correlation between excessive use of technology and chronic dry eye. One such study placed 30 people who used computers for work for eight hours per day in the study group and 30 people who did not computers for even one hour per day in the control group. Individuals in the study group were examined twice daily – once before starting work in the morning and once after finishing work in the evening – using the Schirmer test, which measures tear production, and the TBUT test, which measures tear breakup time. There was no significant difference in tear production as measured by the Schirmer test. However, there was a statistically significant difference in the TBUT results. The study found that long term computer use may cause an evaporative-type dry eye disease.
This wasn't the only study that drew these conclusions, either. This research review describes this study and more that all demonstrate the correlation between dry eye and technology use. The research is clear: the more you work on the computer, the more likely you are to develop this condition.
It's probably safe to assume that the majority of the millions of Americans who suffer from dry eye also use computers more now than they did in the past. Technology users can prevent chronic dry eye by adhering to the 10-10-10 rule, which advises that a person using the computer for an extended period of time should look at an object 10 feet away for 10 seconds every 10 minutes.
Consumption of omega-3s can also help alleviate chronic dry eye symptoms. If you are experiencing symptoms of chronic dry eye, though, it's incredibly important that you seek treatment.
Importance of Seeking Treatment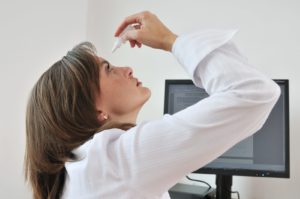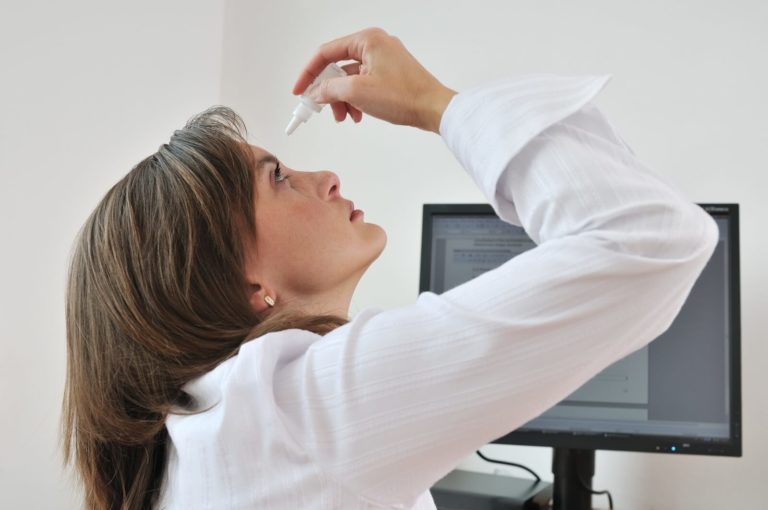 Neglecting to seek treatment for chronic dry eye can lead to more serious eye health and vision issues. It can cause the surface of the eye to become damaged, worsen vision, and lead to eye infections.
Cutting back on screen time, taking frequent breaks while working on the computer, and using over-the-counter eye drops or artificial tears can relieve some of the symptoms of dry eye temporarily. But for a more permanent solution, medical treatment is necessary.
There are a variety of treatment options available for those who suffer from chronic dry eye. One option is to block the tear ducts with removable silicone plugs to prevent tears from draining from your eyes. Another option would be to have surgery to close the tear ducts permanently. Both options will keep the tears in your eyes for a longer period of time, which will improve dry eye.
A milder option would be to increase your eye's tear production with special eye drops prescribed by your doctor. In addition, including nutritional supplements that contain omega-3 fatty acids will also aid in increasing tear production.
Then there are much simpler treatment options to reduce the inflammation in the eyes. You can try soothing your eyelids with warm compresses and massages, using anti-inflammatory ointments and eye drops, or even using eyelid cleaners.
At-home Treatments to Use
Finally, there are things you can do at home to help reduce the severity of your dry eye symptoms. When you're using the computer or doing any type of reading, be sure to blink frequently. This will help to keep your eyes moist and will reduce eye strain. You can also increase the humidity level in your home and wear sunglasses when you're outside to protect your eyes from the sun.
Or, try increasing your omega-3 intake. Taking supplements or eating more foods that contain omega-3s will also help to reduce your dry eye symptoms. In fact, you can improve your overall eye health by increasing your intake of certain vitamins, minerals, and herbs that are essential for maintaining good vision and strong, healthy eyes. You can also add more fish to your diet, as sea creatures are full of this helpful fat. Eating a local diet can also improve your ocular health and alleviate symptoms of dry eye.
One last thing you can do to improve your dry eyes is to make sure to stay hydrated. If you aren't drinking enough water, your eyes won't be able to produce the tears needed to keep them moist. That also means your body, in general, will not function properly. There's a significant correlation in your overall health and the health of your eyes. That's a  good rule of thumb to follow – if your body needs hydration and proper nutrition, so do your eyes! So, drink your eight glasses of water per day, keep up with your supplements, and take steps to take care of your eyes when you're on the job staring at your computer screen all day. Taking these steps will significantly improve your eye health and reduce your risk of suffering from chronic dry eye.
Our Rebuild Your Vision Ocu-Plus Formula Contains All 17 Vitamins, Minerals, and Herbal Supplements to Improve Your Eye Health!