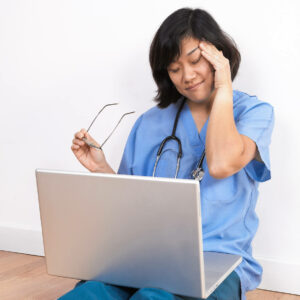 How to Relieve Eye Strain Caused by Using Digital Devices
We are living in a time when it's almost impossible for most people to avoid using digital devices, and therefore, eye strain. Right from young children to grownups, it seems almost everyone is using mobile devices and computers. It's difficult to imagine any professional or student continuing with their profession or academic studies without using a device. Especially when it comes to smartphones and laptops.
Everyone using mobile devices or computers for prolonged hours is exposed to the risk of eye strain or Computer Vision Syndrome (CVS). Your age and the kind of experience you have in handling these devices also come into play. Besides the extended hours people spend looking at their electronic devices, the screens don't do us any favors. The nature of the digital screens themselves contributes to increased eye strain compared to reading the same information printed on paper.
The reason is that the characters appearing on your computer screen are made of minuscule squares or dots of light, known as pixels. Characters made by using pixels are not as distinct as those made on printed pages. Pixels lack sharpness and density, compared to printed matter.
This also goes for devices using high-resolution screens, though the effect may not be so pronounced. It's more difficult for the eyes to remain focused on the text appearing on the computer screen than on text printed on paper. This becomes even riskier if you hold the device closer to your eyes.
Eye fatigue caused by electronic devices is also referred to as digital eye strain or computer vision syndrome and is far too common. It's the most widespread problem faced by users who spend prolonged hours in front of the computer screen without taking breaks. Continuous refocusing tires the focusing muscles within the eye, and that is a major contributor of CVS.
Risk Factors
Apart from the time you spend every day looking at the computer screen, other factors contributing to digital eye strain or CVS include:
How near to the computer screen you are sitting or how closely you tend to hold these devices up to your eyes.
What the devices are used for. For instance, action games cause quicker eye strain compared to surfing the net or reading an e-book.
How frequently you blink.
How frequently you take breaks when spending long hours staring at a computer screen or mobile device.
If you have any problems relating to your vision. For example, you may suffer from dry eyes or be using the wrong prescription glasses. In which cases your chances of eye strain are higher.
Luckily, these risk factors are relatively easy to eliminate. Simply ensure you're taking plenty of breaks from screen time and rest your eyes. When you use your laptop or computer, don't sit too close.
Indications and Symptoms
Here are a few symptoms to watch out for that may mean you're suffering from digital eye strain:
Red and or irritated eyes
Headaches
Dry eyes
Blurred vision while looking at the screen or device
Pain in the neck or back
If you experience these symptoms, reduce your screen time to relieve eye strain. You may also want to see your eye doctor for an exam. An exam allows the doctor to confirm that the symptoms are from CVS and not another condition.
How to Relieve Eye Strain
Fortunately, in most cases, it is possible to reduce eye strain naturally. You might not even have to take any medication or resort to corrective lenses. The easiest way to control eye strain caused by using digital devices and computers is to take breaks. Taking frequent breaks, say every 20 to 30 minutes, helps relax your eye muscles. Even just looking away from the computer every 10 minutes will help. Looking at some distant objects reminds you to blink which really helps reduce symptoms of dry eyes.
Other Measures That Help Reduce Eye Discomfort
Blink your eyes more often, try to make a conscious effort to do so
Every 20 to 30 minutes, leave your desk, stretch your body and relax your eyes
Enhance the font size on your computer screen
Adjust the level of brightness and contrast on your devices
Try to use devices with higher resolution screens
Always keep the device in use at a distance of 10 to 12 inches from your eyes
Other than taking all these precautions and measures to reduce and relieve eye strain caused by CVS, it's very important to maintain a healthy, nutritious diet. There are so many vitamins and minerals in natural foods that help strengthen vision.
For starters, you need to be eating plenty vitamin A, C, E, and B. You should be getting enough omega-3 fatty acids and antioxidants as well. Many of these nutrients can be found in vegetables, fruits, lean meats, seafood, and legumes. Sweet potatoes and dark leafy greens are especially beneficial for the eyes. If you have the time, sit down once a week to plan your next seven days of meals. Decide what you'll eat for each meal and make a grocery list to stock up on the ingredients you'll need. You can even prepare some dishes in advance to save time during the week.
However, if you can't find the time or means to change your diet a little to include the necessary nutrients, you're not alone. Ensuring your diet includes every important eye nutrient requires time, effort, planning, and money. Luckily, you have other options. There are daily supplements, like our Ocu-Plus Formula, that contain all the amazing vitamins, minerals, and herbs needed to keep your eyes healthy and happy.
If you spend much of your day looking at screens, you need to advocate for your vision health. Continuing to suffer from eye fatigue and strain will only lead to worse eye conditions. Besides taking breaks from screens and stretching your eye muscles, get regular eye exams. Speak with your eye doctor about trying a natural, safe supplement for improved eye health. By taking these simple steps to naturally relieve eye strain, your eyes and your future self will thank you.
Our Rebuild Your Vision Ocu-Plus Formula Contains All 17 Vitamins, Minerals, and Herbal Supplements to Improve Your Eye Health!