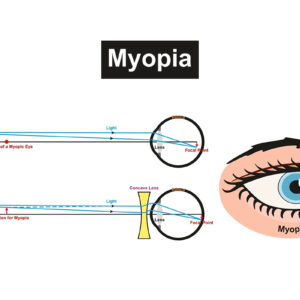 A Demonstration on Nearsightedness
When we start noticing changes in vision, especially drastic changes, it's a pretty common response to head to the eye doctor to see what's up. One of the most common problems people seek help for is blurry vision. This is such a common issue that happens so often, but do we really understand it? We know that our vision (or our children's vision) is blurry, but what is it exactly that makes vision appear blurry to our brains?
Nearsightedness Demonstration
There are some simple ways to explain it, but isn't it better to see a live demonstration on how nearsightedness affects vision? We've found a video that clearly explains what it's like to experience blurry vision from nearsightedness, also known as myopia.
In this nearsightedness demonstration, you're shown what it's like to drive a car with myopia. Street signs become blurry and you must rely on colors and shapes. You might find yourself squinting to see the signs better. Clearly, this is a dangerous way to drive. If you relate to this video, it's time to book an eye exam.
Quick Fix
The doctor will tell you that glasses are the simple fix to the problem of nearsightedness, but the quick fix isn't always the best fix. Many of us do not want to spend the rest of our lives wearing glasses. This usually translates to a new pair of glasses every year or two for the rest of our lives. That's not only vision limiting and hindering, but costly. Your doctor may even suggest wearing contact lenses. But, this solution comes with its own risks and challenges.
The video doesn't really offer any solutions besides seeing your doctor. We're here to say there are natural methods to help fix the vision problem.
The Truth about Myopia
Why do some people develop myopia while others don't? There are several reasons people develop myopia. It can develop from eye fatigue, body growth, or heredity. Obviously, we can't change our family's medical history or the conditions we're predisposed to have. But if the cause of your myopia is environmental or situational, there are things you can do to prevent it. Even if you are predisposed to myopia, there are steps you can take to decreases your chances of developing it.
Rest Your Eyes
As much as we need to strengthen our eyes, we also need to rest them. Eyestrain from overuse is detrimental to eye health. When working at a computer for a long period of time, take frequent breaks to give your eyes the rest they need. Another good way to let your eyes relax is to rapidly rub the palms of your hands together, then place the palms of your hands over your closed eyes. This exercise is called palming and it creates a very relaxing and soothing feeling.
Stretch Your Eyes' Muscles
What happens to your knees if you keep them bent in the same position for hours? They get stiff and sore. The same thing can happen to the muscles that control your eyes. Many of us use a computer for work or school. We might spend eight hours a day staring straight ahead, keeping our eyes in the same position. Over time, this behavior can deter your distance vision and lead to myopia.
Consider adding eye yoga to your daily routine. In the morning, at lunch, and before bed, stretch your eyes. Practice rolling them from left to right, up and down. Do eye circles in both directions. Then, stare at objects in varying distances from you. To do this, either go outside or stare out your window. Doing eye exercises like these will give your eyes' muscles a chance to stretch. Flexible eye muscles allow your eyes to adjust to seeing objects up close and far away without blurriness.
Diet and Vision
It can be said that the first step to improving poor vision is a healthy diet. So, you can address nearsightedness without resorting to glasses by improving your eating habits. There are some foods that are better for your eyes than others. If you want to reduce the risk of or improve nearsightedness, eat a nutrient-rich diet. Some of the nutrients you should be focusing on are vitamin C, vitamin D, calcium, selenium, magnesium and chromium.
Vitamin C helps keep the tissue of the cornea healthy and it helps maintain the health of the blood vessels which carry nutrients and oxygen to the retina. To get more vitamin C in your diet, try to add foods like citrus fruits, tomatoes, strawberries, peppers, and broccoli.
Vitamin D is also important to the cornea because it enhances corneal epithelial barrier function. Studies have also found that people who suffer from myopia also have a lower than average level of vitamin D in their blood. Try adding liver, tuna, eggs and fortified drinks like milk or orange juice to get more vitamin D in your diet.
Calcium can be added to your diet by consuming more yogurt, milk or cottage cheese. Magnesium can be added with foods like spinach, peanuts, almonds, cashews, avocados, and beans. Foods such as salmon, halibut, sardines, tuna, shrimp and eggs are all good for adding selenium to your body. Chromium can be added by eating tomatoes and onions.
Unsure of the most important vitamins and minerals for not just myopia, but overall great vision health? Look at this list of 17 essential herbs, vitamins and minerals. If you think that it's too difficult to get all the necessary nutrients in your diet on a regular basis, then a supplement might be the right choice for you.
Seeking Help
We hope this demonstration on nearsightedness helped a bit. If you are experiencing symptoms of myopia, you should have an eye examination to determine what the underlying issue is. The symptoms of myopia include headaches, squinting, eye fatigue, rubbing the eyes, blurry vision and eyestrain. A doctor may recommend that you correct your vision with lenses. But, remember that you may be able to rebuild your vision with the correct diet and eye exercise program. Myopia can be beat!
Our Rebuild Your Vision Ocu-Plus Formula Contains All 17 Vitamins, Minerals, and Herbal Supplements to Improve Your Eye Health!