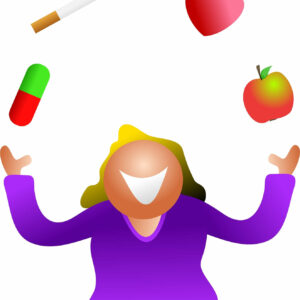 Best Eye Vitamins for Smokers
As you age, your eyes will begin to deteriorate, causing your vision to become impaired. When you're a smoker, this deterioration happens much quicker. However, taking vitamin supplements for the eyes can help to slow the deterioration process and restore good health.
Many of the vitamins that promote eye health also have antioxidants that will work to improve eyesight. And, many of them have been proven to slow the effects of macular degeneration. Macular degeneration occurs when the macular area of the eye's retina begins to wear out. Smoking increases your risk of AMD immensely.
Quitting smoking is the best step you can take towards healthy eyes. But for some, quitting isn't in the cards right now. So, focus on taking excellent care of your eyes. There are many vitamins that can improve eye health, including the effects caused by a degenerative disorder.
The Effect of Smoking on Your Eyes
Smoking is extremely bad for your eye health. Not only does it increase your risks of cancer and glaucoma, but it also increases your risk of many eye conditions. These include:
Irritation: When you smoke regularly, it causes chronic redness in the eyes. This is from the smoke you exhale entering your eyes and the internal effects of smoking. In fact, it can tear the film over the eyes, cause dry eye syndrome, and irritate allergies of the eyes.
Macular degeneration: When you smoke, you have a four times higher chance of developing age-related macular degeneration (AMD). Even if you have smoked in the past and quit, your chances of developing it are still increased.
Cataracts: Smoking will increase the chance of the development of cataracts significantly. This is because when you smoke, it reduces the number of antioxidants in your eyes. We need antioxidants to fight free radicals and prevent oxidative stress. Over time, the lack of antioxidants will allow cataracts to form.
Optic Neuropathy: When you smoke, it decreases the blood that flows throughout your entire body. That means less blood is getting to the vessels in the eyes and the optic nerve. Eventually, this can cause damage to the optic nerve and result in blindness.
Thyroid Eye Disease: Smokers who suffer from thyroid diseases may develop Graves' disease, which will swell the tissue around the eyes. This can cause bulging or protrusion of the eyes from the sockets.
Vascular Disease: When you smoke, it aids the development of a condition known as arteriosclerosis, the hardening of the arteries. If this develops, your chances of getting a vascular disease increases. Untreated, it could lead to blindness.
Restoring Poor Vision Caused by Smoking
Smoking does a whammy on your eyes and vision. Not only does it increase your risk of diseases, but the side effects are unpleasant. There are many different vitamins that may help restore the problems you are facing.
When you take the proper eye vitamins, they can help you keep your eyes at optimum health. Additionally, having a vitamin regimen prior to problems occurring can prevent many eye diseases. Or, at least reduce the chances of them developing.
You can get many vitamins through the foods that you eat. However, it's often impossible to get the amount you need for optimum eye health. This is where vitamins that promote eye health come into play.
There are specific vitamin combinations that promote eye health.
The Right Vitamins
When you are searching for a brand, you should compare the mineral and vitamin composition. If a vitamin is created for the eye, it should contain the following ingredients:
Vitamin A: This vitamin plays a crucial role in vision health. It strengthens the eye's surface and reduces the chance of developing eye infections.
Vitamin C: This is a water-soluble vitamin that is also a strong antioxidant. It helps maintain your body's connective tissue, which includes the collagen found around your eye's corneas.
Vitamin E: This vitamin has been proven to fight cataracts and facilitate the absorption of other nutrients.
Zinc: This mineral helps the body absorb certain vitamins such as vitamin A. And, it helps the antioxidant enzymes reduce the free radicals in your body. Additionally, zinc has been shown to fight night blindness and macular degeneration.
Vitamin B2: This is also called riboflavin and is a water-soluble vitamin. It's important for the overall health of your eyes and aids in clear vision. Additionally, taking B2 regularly may help reduce the chance of developing cataracts.
Selenium: People who suffer from macular degeneration often have low levels of selenium. While this is a trace element, it is still vital for proper eye health.
There are both over-the-counter and prescription vitamins for eye health that doctors prescribe for smokers. If you continue to smoke, it's essential that you protect your eye health with the vitamins listed here. They each play an important role in ensuring your eye health.
Recent vitamins that have been produced for the eye health of smokers also contain lutein. This antioxidant is typically concentrated in the lens, macula, and retina portions of the eye. When you have an efficient amount of lutein in your eyes, they will be able to stay healthier. Even when you smoke regularly.
Choosing Eye Vitamins for Smokers
While there are certain vitamins that can aid the eye health of smokers, there are also some that can be dangerous and do more harm than good. Recent studies have shown that smokers who take beta-carotene supplements are at higher risk for lung cancer. It's suggested that you seek vitamins that exclude this ingredient to reduce the risk that is present.
Smoking has been proven to increase the chances of various eye diseases. It increases your chances of developing conditions such as macular degeneration and glaucoma. If no actions are taken to reduce the effects of smoking, it can lead to serious vision problems. That includes the chance of becoming blind.
Understanding the risks are as important as knowing what treatments are effective. Clearly, quitting smoking is the best option to protect your eyes. But, if that isn't in your plants right now, it's important to take excellent care of your eyes. An eye-health supplement is a great place to start.
Our Rebuild Your Vision Ocu-Plus Formula Contains All 17 Vitamins, Minerals, and Herbal Supplements to Improve Your Eye Health!