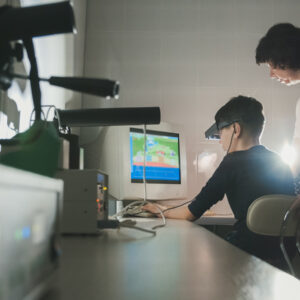 Behavioral Optometry – Behavioral Optometrist
Never heard of behavioral optometry? Well, you're not alone as many people haven't! However, as part of the Rebuild Your Vision family, you are already contributing to this burgeoning field.
This growing subspecialty of optometry uses vision therapy to go beyond the usual concerns of vision care. You see, strong vision is much more than being able to see 20/20. All that means is that you can see clearly when objects are 20 feet away. It's a measurement of visual acuity, when there are actually many more ways to examine vision.
A behavioral optometrist uses a wide array of exams to study your vision. Many of the tests require you to answer verbally because they're related to how you interpret your vision. Here's everything you need to know about this growing field.
Why Behavioral Optometry Is Necessary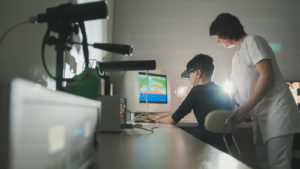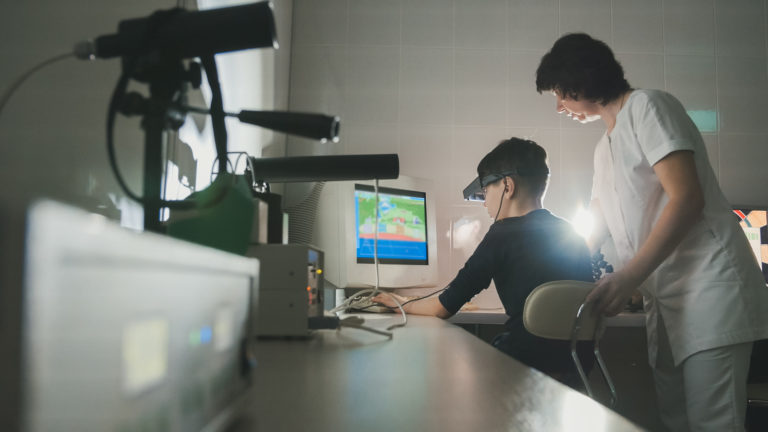 When you look across the room and see your television, there's a lot more happening in your body than you know. Your eyes see the TV, but the brain identifies it, describes it, interprets it, and chooses what action to take. Perhaps you'll continue looking at the TV, perhaps you'll blink or look away. Really, your eyes have very little control over your vision. They are merely the tools your brain uses to interpret the world around us.
Because of the immense connection between the brain and the eyes, behavioral optometrists take this connection into consideration. The tests they do measure your sight, yes, but also your brain's response to what you see.
Hundreds of years ago, humans used mostly their distance vision. They hunted, looked for predators, and lived mainly outdoors. Today is nearly the complete opposite. We live most of our lives indoors where everything we see is within 12 feet. We're using our near vision like never before in history. Perhaps you're a student reading textbooks or your job requires using a computer. These lifestyles add extra pressure to your vision skills that our ancestors never would have experienced.
Because of the strain and tension caused by modern lifestyles, traditional optometry often isn't the most optimal option. It's important to see specialists who have studied this massive change in humanity. They know how to address its effects on our vision.
Who Needs to See a Behavioral Optometrist?
Everyone and anyone can see a behavioral optometrist to improve their vision. Some of the most common patients are children. Notice when your child complains of their vision or indirectly gets frustrated with it. Perhaps they struggle with playing sports, coordination, and thus, motivation. Maybe your child doesn't like to work on his/her own because they'd rather depend on a friend's sight. They may start to develop behavioral problems and issues with their confidence.
Behavioral optometrists believe that these kinds of behaviors, as well as poor performance during visual tasks, are a sign of non-optimal visual skills. Dr. Stanley Appelbaum, author of Eye Power: A Cutting-edge Report on Vision Therapy, studied the role of vision in children's behavior. His unique approach to understanding the role of the eyes in learning involved "how eyes work together and move together and process information and store information and do something with the information."
Therefore, so-called behavioral problems can be tackled from the standpoint of getting the eyes and brain to work together better.
Here's an Example…
Arizona Cardinals wide receiver Larry Fitzgerald is a good example. As a child, he did not do well in school and was a poor athlete. But, his grandfather began to use vision drills, such as asking his grandson to balance on a board while trying to track a dot. Or, he'd ask him to walk on a wood rail while focusing on an object. This vision training was designed to improve perception, hand-eye coordination, reflexes, focus, and more. Fitzgerald credits it for his successes, both on and off the field.
Appelbaum himself suffered from chronic headaches as a child, and thus hated to read. In optometry school he discovered he had "convergence insufficiency." This condition is characterized by eyes that don't turn in together, affecting close work such as reading. He was treated with eye exercises and his headaches disappeared. Now he loves to read.
Studies show that over 25% of children have undetected vision problems. In some cases, children suffering from vision-related issues have been inaccurately diagnosed with ADHD or ADD.
And, as a recent study noted, over 20 percent of children have vision problems that can impede their ability to reach their potential. These problems commonly include:
Poor eye-movement control or 'tracking issues'
Problems with accommodation (when the eyes don't focus well together or sustain focus at various distances)
Convergence insufficiency
Difficulties sustaining visual attention
Poor visual-motor integration (bad hand-eye coordination)
Weak visual form perception (the ability to reproduce and generalize shapes)
Poor visual memory
If behavioral optometry can help even a fraction of these kids reach their potential, then this exciting new field could revolutionize the lives of millions. It's exciting to know that you are part of this change.
Behavioral Optometry at Home
There are many effective ways you can take elements of behavioral optometry to practice at home. If you or your child is suffering from vision problems, consider trying eye exercises and stretches. Doing these exercises daily can improve your eye muscles' agility and thus, visual acuity. Plus, they can help relieve stress and tension from excessive up-close work and screen time.
Here are some of the best eye exercises to try:
These exercises are also part of an at-home vision improvement practice called vision training. In this theory, your eyes require exercise like any other body part. We sit up, walk, run, and rest our legs all day. Our eyes, on the other hand, are often open and staring ahead. It's important to work on their flexibility and agility. Whether you're driving to work, watching the news, or eating lunch, consider training your eyes. It's not the same commitment as going to the gym!
Behavioral optometry acknowledges the brain's connection to vision. And, the impacts on behavior that poor vision can have. It's incredibly important for children with perceived vision problems to see a behavioral optometrist. Find one in your city and start vision training at home.
Our Rebuild Your Vision Ocu-Plus Formula Contains All 17 Vitamins, Minerals, and Herbal Supplements to Improve Your Eye Health!