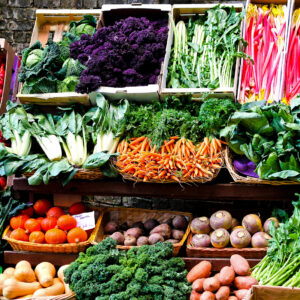 3 Vegetables to Help Your Eyesight
If you've been reading our Rebuild Your Vision articles for a while now, you know that we're a big promoter of eating well to fuel your eyes. Whether you get your necessary eye nutrients from supplements like our Rebuild Your Vision Ocu-Plus Formula or not, you should definitely incorporate these three vegetables into your weekly menus in order to promote good vision for years to come. Eating vegetables to help your eyesight is one of the best ways to get these vitamins into your system.
Amazingly enough, carrots did not make it on this shortlist of vegetables to help your eyesight. While it is true that carrots are full of vitamins that can help your vision, there are other vegetables that offer better sources.
The three vegetables we want to discuss with you today are known for their nutritional values. They offer benefits to many parts of your body along with your eyes. Adding them to your morning smoothie, lunch salad, or dinner side dish will not only improve the flavor profile of your meal, but also help improve and maintain your vision. 
The Best Vegetables to Help Your Eyesight
Kale

You may or may not be familiar with this vegetable. If anything, you probably know it as the latest vegetable fad. It's a member of the cabbage family and studies have shown that this one vegetable is a good source of many of the vitamins and minerals that your body needs.
It is a low-calorie source of vitamin C, vitamin A, vitamin B6, and a wide range of trace minerals such as manganese, dietary fiber, copper, and potassium.
When you consider that one cup of cooked kale can provide 88.8 percent of your daily value of vitamin C, you can see why it has a place on our eye healthy vegetable list. Vitamin C is especially important because the body cannot store this vitamin. Vitamin C helps your eyes because it's a powerful antioxidant. This means it will help prevent things like cataracts, which can save you from undergoing expensive surgery down the road.
Kale is also a wonderful source of vitamin A. Kale is naturally rich in concentrated beta-carotene, which our body uses to produce vitamin A. This combination of vitamins and beta-carotene can also help protect your eye from the development of cataracts. Cataract surgery is actually the surgery most performed in the United States, but despite its relative safety as an outpatient procedure, I think we can all safely say we'd like to avoid going under the knife if at all possible. Kale might be the ticket for doing just that. 
Spinach
Popeye's favorite food is not just good for cartoon strength. Because of its dark, leafy green color (similar to kale), you know that it's chalk full of eye-healthy nutrients that will help you build good vision – for life.
Carrots are good, but spinach is better. Spinach is one of a variety of dark green leafy vegetables that contains lutein and zeaxanthin. This is important because they are carotenoids already found in our eyes. It's important to replenish our eyes' supply of these nutrients often in order to prevent the development of numerous eye diseases.
Spinach also contains beta-carotene just like carrots do, but it actually contains more antioxidants. Try adding one cup of cooked spinach to your diet 4 times a week.
Yes, we did say cooked! For once, it is easier for your body to absorb the nutrients from cooked food instead of raw. For people who don't care for the taste of cooked spinach, try sprinkling it with a little lemon juice or adding it to an omelet or a quiche. Who knows, once you start incorporating it often enough, you may just start to enjoy this leafy green.
When you consider the benefits it offers in preventing age-related macular degeneration and cataracts, you'll find that there are lots of ways to serve it. Spinach just might be the new carrot. 
Sweet Potatoes
The sweet potato is another unsung hero of the vegetable world. Most people only think of sweet potatoes at holidays like Thanksgiving or Christmas. This is such a waste of a perfectly good vegetable that contains amazing amounts of antioxidants!
You'll notice that the sweet potato shares the same bright, orange color as the carrot. This means that it has some of the same powerful nutrients, but in higher concentrations. The antioxidants in sweet potatoes work in our bodies to destroy free radicals which can cause problems such as cancer, degenerative eye diseases, and heart disease.
Many people are used to peeling potatoes before preparing them. With sweet potatoes, though, you definitely want to leave the skin on.The antioxidant value in the sweet potatoes is almost three times higher in the skin of the potato. You might want to consider substituting sweet potato in your favorite potato skin recipe.
You can also bake sweet potatoes and serve them alongside a steak. Or, cube them up and roast them with some salt, pepper, chili flakes, and olive oil for a great side dish. You really can't go wrong with this great-tasting vegetable.
Incorporating Vegetables to Help Your Eyesight
Don't be afraid to experiment with these vegetables to help your eyesight. The internet is a great source of recipes for all kinds of foods. You don't have to sit down to a plate of plain vegetables in order to get all the good nutrients from them.
Don't let seasonal availability deter you from looking for these vegetables, either. While you may think of sweet potatoes as a fall treat and spinach and kale as summer foods, in today's market, they're available all year long. There are plenty of summery sweet potato recipes and winter salads that call for these vegetables. Don't be afraid to mix it up.
Just add them to casseroles or dishes that you normally make. When you consider the benefits they offer to your eye health, a little experimentation isn't that much of a risk. Who knows, by diversifying your diet, you may not only help your eyes, but you may also add interest to your go-to meals.
Our Rebuild Your Vision Ocu-Plus Formula Contains All 17 Vitamins, Minerals, and Herbal Supplements to Improve Your Eye Health!