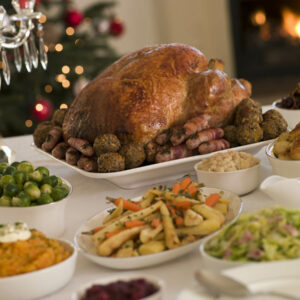 A Christmas Feast: Is What You Eat Affecting Your Eyesight?
'Tis the season to gather and celebrate. Christmas is a great time of celebration… and food! A time to ignore your diet and just enjoy the many treats and feasts that go with the holiday. After all, we can always make up for it when it comes time for New Year's resolutions, right?
But what many people don't realize is that the foods we eat don't only affect our waistlines, but our eyesight as well. So, when choosing items from the buffet, pause and think. Maybe take a second to consider what's not only appetizing to your eyes but what foods are good for your eyes. Many foods that grace the Christmas table can actually fill both of those needs!
What You Eat and How It Affects Eyesight
Appetizers
When selecting appetizers, raw vegetables are a good choice if you are looking for healthy choices (for your body and eyes). Most vegetable trays contain raw carrots and raw broccoli. Carrots contain vitamin A and broccoli has vitamin E, both of which are great for strengthening vision.
Not the raw veggie type? Grab a handful of nuts! Some good nuts for your eyes are peanuts (vitamin E), walnuts (omega-3), and almonds (vitamin E). Or, slip some olives onto your plate for a little more vitamin A. If there are any shrimp left, grab a couple for their omega-3 content.
Main Dish
When it comes to the main feast, most people opt for turkey, which is great since it contains zinc. Zinc is important because it helps antioxidants reduce the number of free radicals and it helps the body absorb vitamin A.
Another good choice for the main dish is salmon. It is one of the best choices to get more omega-3s in your diet. If red meat is on the menu, don't feel like you can't indulge in it. Red meat contains selenium which helps your body absorb vitamin E.
Side Dish
When it comes to what you eat and eyesight, side dishes can be one of the best ways to get more vitamins and minerals into your system. Sweet potatoes are an excellent choice since they contain vitamin A. Cranberries or cranberry-based dishes are also a great choice as cranberries contain vitamins C and E.  Steamed broccoli or broccoli salad would also be a good selection for its vitamin E content. Ladle on the baked beans for some added zinc.
Some side dishes you may want to avoid because they lack anything that will help your eyesight are pasta and white rice dishes. If they are paired with vegetables in a casserole or a pasta salad, then you could reconsider. Rolls and bread are full of carbohydrates which convert to sugar in the body. And, they really contain no vitamins or minerals to offset the sugar. If you want to have a roll or bread, try to opt for a whole-grain roll.
Dessert
Dessert is one of the parts of the meal that many people look forward to. Even though we all know they are typically high in sugar which can result in damage to retinal blood vessels. A good dessert choice would be something like a pumpkin pie or pumpkin rolls. Pumpkin contains vitamin A and antioxidants.
When many people think of Christmas food, they automatically think of fruitcake. But if you're looking for healthy foods for your Christmas feast, fruitcake should be very low on your list. Don't be fooled by the name! Fruitcake actually contains no vitamin A, vitamin C, or vitamin E. It also has high sugar content.
Beverages
It's not just what you eat that can affect your eyesight. Don't forget about drinks! Fruit juices are a good choice, especially orange or cranberry juice. For the adults, red wine is okay in moderation because red wine contains quercetin which is an antioxidant.
Low-fat milk is another great option for the kids because it contains vitamin A. Avoid sugary drinks like soda, as they have no nutritional benefit and can cause an elevation in blood sugar. This can result in damage to the optic nerve. Both kids and adults would enjoy carbonated water with a squeeze of fresh lime juice. It contains no added sugar and actually hydrates your eyes during the dry winter months.
Milk and Cookies for Santa?
How about some healthy choices for Santa and the reindeer too? They need to keep their eyesight healthy so they can travel safely. The traditional glass of milk is the perfect treat for Santa, as milk contains vitamin A. Or a tall glass of OJ could be the way to go since orange juice is high in vitamin C.
For both Santa and the reindeer, how about some raw carrots? They provide vitamin A and are a great snack for Santa to take with him.
Christmas comes but once a year and it is okay to indulge in some extra treats during the holidays. But make sure you are getting an adequate amount of essential vitamins and nutrients in what you eat to keep your eyesight healthy and keep you from feeling run down.
You're likely familiar with the bogged-down, lethargic feeling of eating too many unhealthy foods, or, from overstuffing yourself at the Christmas Eve buffet. While it's more than okay to treat yourself, be mindful of your fullness. Slow down your chewing and try to put your fork down between each bite. This will allow you to notice when you're full and don't want to eat anymore.
One way to combat poor eating habits during Christmas is to add or continue to take a supplement like our Ocu-Plus Formula which contains the 17 vitamins, minerals and herbal supplements for healthy eyesight.
It's probably a given that you won't be getting all these nutrients from your diet during the 12 days of Christmas. But it's important to make up for that with a natural supplement. This ensures your eyes' progress to getting stronger and healthier isn't halted over the holidays. Keep up the work you've been putting in all year to improve your vision. Then, on New Year's Eve, include your vision health in your resolutions.
Our Rebuild Your Vision Ocu-Plus Formula Contains All 17 Vitamins, Minerals, and Herbal Supplements to Improve Your Eye Health!