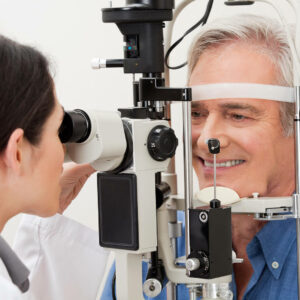 A Temporary Fix to See Without Glasses
If you're one of the unlucky people who have to wear glasses or contacts to see, you no longer have to fret when you've broken your glasses or lost a contact lens, because there is a way that will allow you to see without your glasses or contacts – at least for a little bit anyway.
Now, before we get into how exactly you can temporarily see without glasses, let's pause for a second: we aren't telling you to ditch your glasses before driving or going to work. We're just here to provide you with a quick fix if you're in a pinch. Also, remember that at Rebuild Your Vision, we always advocate for strengthening your vision in natural ways.
How to See Without Glasses
This procedure is pretty simple. Curl up your fingers like you're making a fist, but don't tighten up your fingers. Instead, leave them kind of relaxed so there is a small hole. Now, look through that hole with one eye, without wearing corrective lenses. Can you see things a little more clearly? Well, there you go. You don't need to wear your glasses anymore.
Ok, so maybe you do need to still wear your glasses unless you're content with walking around with your hands on your eyes staring through a tiny little hole forever. Most people would find that a bit inconvenient, and perhaps even a little weird. Weird or not, it's still pretty cool that that trick actually works. Find out more about this cool little trick in the following video:
How Does It Work?
There's actually some pretty cool science behind how this procedure works. Your eyes work by allowing light to come into your eyes from all directions. So, when it hits the lenses in your eyes, the light is spread out. When you have good vision, your eyes' lenses are able to focus that spread out light onto your retina, which makes you see images clearly. To see things clearly at different distances, your eye muscles squeeze each lens to make them more round so the light isn't so spread out.
If you wear glasses or contacts, that means that your eyes' natural lenses are damaged and don't work properly. So, you need corrective lenses to be able to focus light onto your retina to produce clear images. When you look through the hole in your fist, the light is only able to come in from one direction, so everything you look at is in focus. But everything also appears darker than it would if you were looking at it with good vision or corrective lenses. This is because small holes block the light from other directions and only allow light to enter one way.
So, while staring through a small hole is a good temporary solution, it's not something that you will want to do all the time just so you can avoid wearing corrective lenses. However, there are other ways to improve your eyesight so maybe someday you won't have to wear those annoying corrective lenses anymore.
Other Ways to Improve Eyesight
If you're tired of dealing with contacts and eyeglasses and you want to be able to see clearly without them, some ways can help you achieve this. First of all, there's always surgery. You could go and have LASIK surgery done to give you back your good vision. This solution works for most people, but there are a good number of people whose vision has actually gotten worse after the surgery, so it's important to know the risks of LASIK.
Patients have reported eyesight regression, meaning they've had to return to wearing their corrective lenses to see. Patients have also reported things like permanent dry eye, double vision, constant glare, and starbursts, which means when there is blurriness surrounding objects that they can otherwise see clearly. It's also possible to completely lose your eyesight after LASIK surgery.
So while surgery is a good option for some, for others it's just been a mistake. For the rest of the corrective lens-wearing people who may have considered surgery at some point, they've ultimately decided that it doesn't make sense to do something that could actually make their vision worse than it already is.
Natural Solutions to See Without Glasses
Another option to improve your vision would be to take special care of your eyes in your daily life. Of course, it's best if you start this process from a young age. Eat a diet full of foods that contain nutrients that are good for your eyes. Eat foods that are high in vitamin C, omega-3s, vitamin A, and any other foods that you hear referred to as antioxidants. These are all good for your eyes because they keep your cells from oxidizing too quickly.
You also need to make sure not to overstrain your eyes. If you are on the computer a lot or you read a lot or watch TV a lot, your eyes can become strained and tired. You can actually probably feel it when your eyes have just about had enough. You need to let your eyes rest periodically. Constant strain on your eyes can lead to other vision problems, which you don't want to have to deal with.
One way you can combat digital eye strain is to follow our 10-10-10 rule. This means that if you are doing a lot of close computer week, you should take a break every 1o minutes by looking at something 10 feet away for at least 10 seconds. Or, you can invest in some blue light-blocking glasses for some added protection while you work. Protecting your eyes from digital screens is really important!
You can also take eye-healthy supplements, like our Ocu-Plus Formula. These vitamins include 17 essential vitamins and minerals that support good vision. Eye vitamins are no joke. They really can help to improve your vision, especially if you're combining them with other methods to keep your eyes healthy. Within a short period of time, you should begin to see some improvement in your vision.
Our Rebuild Your Vision Ocu-Plus Formula Contains All 17 Vitamins, Minerals, and Herbal Supplements to Improve Your Eye Health!