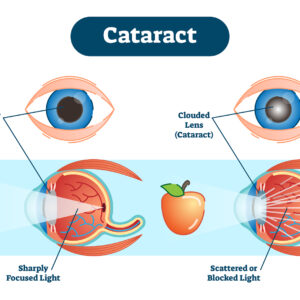 By the time they turn 75, over half of Americans will have cataracts. This lens-clouding eye disease is one of the leading causes of blindness. But, it's a disease that we can prevent and treat.
Surely you've heard the saying, "you are what you eat." Researchers at Oxford University have found that while this might not be completely true, what we eat can affect our vision. Here's what you need to know specifically about cataracts and your diet.
What the American Optometric Association Has to Say
In a society focused on convenience, it's common for those with cataracts to opt for surgery. It's usually effective and much easier than changing your lifestyle. In fact, over 3.8 million Americans have cataract surgery every year. But, every surgery comes with risks. The AOA says that delaying the onset of cataracts by just 10 years would cut that surgery prevalence number in half. Improving nutrition is one of the most promising ways to avoid or delay cataracts.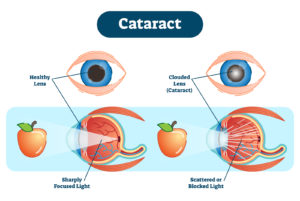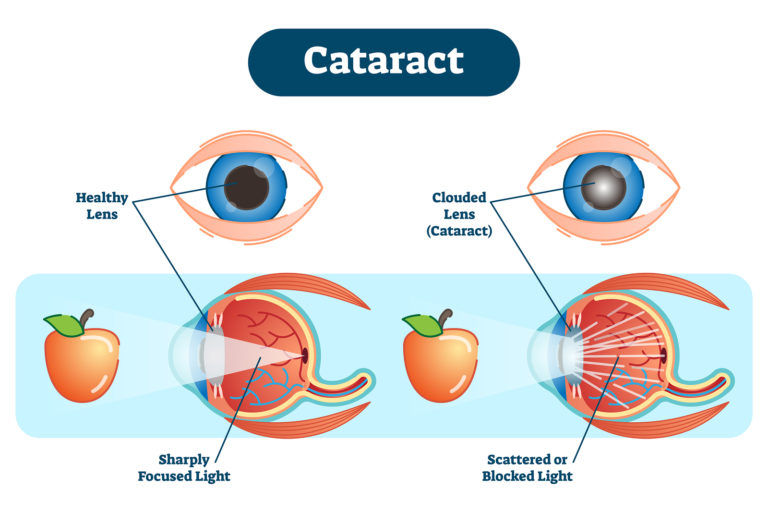 Cataracts are a growing problem in the United States as well as in other countries. A cataract is the result of cloudiness in the lens of the eye. This cloudiness is caused by the proteins in the lenses of your eyes becoming damaged. There are three main types of cataracts divided by the part of the lens that they affect. Nuclear cataracts, cortical cataracts, and posterior sub-capsular cataracts.
When the lens becomes cloudy, it limits the amount of light that can pass through the lens. Thus, leading to blurred vision or loss of vision. In most cases, once a cataract has occurred, surgery is necessary to correct your vision.
Vegetarianism and Cataract Risk
Research shows that less meat in our diet can actually lead to a lower chance of cataracts developing. When you look at your options, there's a clear winner. Either cut back on your meat intake or prepare to get eye surgery in the future.  The Journal of the Academy of Nutrition and Dietetics recently published a study of 6,000 participants that linked vegetarianism with lower cataract risk.
The study found that people who follow a vegetarian diet had higher intakes of soy, vegetables, nuts, whole grains, dietary fiber, vitamin C, folate, and vitamin A equivalent. If you've been reading Rebuild Your Vision for a while, you know that these are important for eye health. We've written article after article about why a nutritious diet will save your vision. If you opt for a vegetarian diet, you are more likely to include healthy foods in your diet that include all of these nutrients because you won't be filling up on fried chicken or hamburgers.
Just something to think about the next time you want to order the 12 oz. sirloin. But, as eye-opening as this is, eating meat is not the only thing that can raise your risk of developing cataracts.
There are other harmful behaviors that put you at a higher risk of cataracts. They include smoking cigarettes and failing to wear sunglasses outside. These are two easy fixes: quit smoking now and never leave the house without your sunglasses.
Cataracts and Your Diet: The Good News
There are steps you can take that help you reduce or avoid the risk of developing cataracts. Besides reducing the amount of meat that you eat, consume foods containing antioxidants like vitamin C and E, lutein and zeaxanthin. These nutrients have been shown to lower the risk of cataracts. Like we said before, that's why eating a vegetarian diet can be beneficial to your eyes. It already includes many of these nutrients in appropriate quantities.
The National Cancer Institute and the U. S. Department of Agriculture recommend eating two cups of fruits and 2.5 cups of vegetables each day. But, the average American only eats 0.9 cups of fruits and 1.4 cups of vegetables. If we could all follow this plan, we would receive the optimal amounts of the antioxidants to help prevent cataracts.
Let's be honest. No matter how hard we try to stick with a plan like this, we are going to fail eventually. Don't feel bad! You're not alone! There are easier ways to get your daily nutrients for vision health.
There Is Still Hope!
The majority of us will not get the antioxidants we need from the food we eat. But, we can use an eye vitamin or supplement to provide the necessary antioxidants that are missing from our diets. Yes, modifying our diets to include these foods is really the best way to get the antioxidants that our eyes need. However, a supplement or eye vitamin is an acceptable alternative. So, you may not have to give up meat to make sure you get enough antioxidants in your body after all.
What to Look for in a Supplement
Make sure that the supplement you choose contains as many of these eye-healthy ingredients as possible.
Vitamin A
Vitamin C
Lutein
Zeaxanthin
Zinc
Omega-3
Vitamin E
What Foods Contain These Naturally?
If you are interested in trying to improve your diet to include foods high in these vitamins and antioxidants, this list should help. These foods will not only help your eye health, but they will improve your overall health as well. Many parts of your body can benefit from the antioxidants found in these foods. Here are some of the best antioxidant-rich foods:
dark green leafy vegetables like kale, chard, collard greens, and spinach
tangerines
orange peppers
green peas
tomatoes
strawberries
oysters
tuna
salmon
almonds
peanut butter
peanuts
broccoli
cantaloupe
The list of good-for-you foods could go on for a very long time. Most fruits and vegetables contain at least some of the antioxidants that your eyes need to stay healthy and avoid cataracts. Learning how to prevent cataracts through your diet is just a matter of retraining yourself. Stock up on fruits and vegetables instead of easier prepared foods and fast foods. If stocking up on fresh food isn't possible, choose a safe and effective eye-health supplement. You don't have to accept fate with cataracts. Change your lifestyle and diet today to protect your future vision.
Our Rebuild Your Vision Ocu-Plus Formula Contains All 17 Vitamins, Minerals, and Herbal Supplements to Protect Against Cataracts!