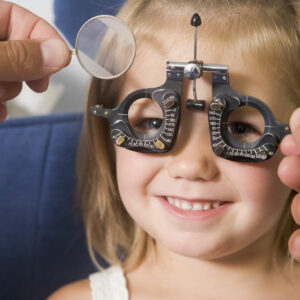 What Your Child's Eye Exam Should Evaluate
It's no secret that good vision is essential to maintaining good quality of life, especially as a kid. You want the best for your child, and that includes ensuring their eyes are in the best condition possible so that they can be successful in life. Children's eye health can change pretty quickly, which is why it's so important that they receive regular eye exams.
There are many children who do not receive regular eye exams that have undetected vision problems. Those vision problems can lead to learning problems, attention problems, and even behavioral problems. It isn't unusual for children to be misdiagnosed as having something like attention deficit hyperactivity disorder (ADHD). In actuality, many of these children's problems stem from the fact that they can't see clearly. This often leads to unnecessary frustration and acting out at school.
The American Optometric Association recommends that babies should have their first eye exam at the age of six months, another eye exam at the age of three, and then another one before they start kindergarten. After that, children should receive eye exams every one to two years, or as recommended by their eye doctor. Clearly, your child's vision is important, so it's important to take the necessary steps to monitor it.
Scheduling an Eye Exam
There are a few things you can do to help your child's eye exam go off without a hitch. For one, think about some questions you should ask the eye doctor before you arrive. That way, you'll be prepared to talk to your child's physician once you get there.
When it's time for your child to see an eye doctor, the time of the day that you schedule the exam can make a big difference in how well the exam goes. You want to schedule it for a time when your child is alert and in a good mood. It's probably unrealistic to think that the exam will go successfully if your child is tired, cranky, and won't sit still to have their eyes looked at.
Some children may also feel apprehensive about someone poking around in their eyes, so it's important to reassure them that there's nothing to worry about. You should also try to explain to them what the eye doctor is going to do, such as shining a light in their eyes, so they know what to expect. This will help to take the worry away so the exam will go much more smoothly.
You also want to make sure that the eye doctor you schedule the exam with works with children of your child's age regularly. Some eye doctors don't see a whole lot of children. Therefore, their approach with how they do exams on kids may not be the best and most comforting for your child. Eye doctors experienced with examining children's eyes will know how to work with youngsters, ease their fears and make them comfortable.
Comprehensive Eye Exam
When your child goes in for their eye exam, the doctor should evaluate specific areas in order to ensure they are not suffering from any undetected vision issues:
Visual Acuity – The eye exam should test for distance vision to see how sharp and clear the patient can see at a distance of 20 feet. The exam should also test for near vision to see how clearly and sharp they can see at close distances. Reading distance is particularly important.
Focus – The eye examination should test to see how well your child's eyes can maintain sharp and clear vision at different distances. A child whose eyes have difficulty focusing can become frustrated when they're trying to read or do other similar activities.
Eye Muscle Strength – Looking carefully at the eye muscles can determine whether or not they are aligning properly. Poor alignment of the muscles can lead to problems such as amblyopia, or lazy eye. It can also cause their depth perception to decrease. If the eye muscles are not working together, reading may be more difficult for your child. Plus, their eyes may tire more easily.
Retinoscopy and Refraction – The eye doctor will use a light known as a retinoscope to determine the child's prescription. This way, the doctor won't need to ask the child any questions regarding how well they can see, which is what is known as refraction. Sometimes eye doctors will use refraction and retinoscopy to determine your child's eyeglass prescription.
Dilation – The eye doctor should dilate your child's eyes to get a more in depth look at the overall health.
If the eye doctor determines that your child needs eyeglasses, you and your child will then be able to pick out the frames that you want. If the doctor detects a more serious condition, they will explain what is going on with your child's eyesight. Then they will speak with you about necessary treatment options.
Keeping Your Child's Eyes Healthy
After you leave the office, what should you do to preserve your child's vision? Whether your child walks out with new glasses or not, you can do a lot to ensure that your child's eyes keep developing properly. It's important to start proper eye nutrition at as early an age as possible in an effort to prevent serious eye problems later on in life. Making sure your child eats their fruits and vegetables is extremely important for good eye health.
Everyone knows it can be near impossible to get kids to eat fruit and veggies – veggies especially. However, you can get creative with making sure they're getting the amount they need. For instance, you can make smoothies with their favorite fruits and toss in a handful of spinach. The smoothie will turn green, but they won't taste the spinach at all. Plus, they'll get a good source of eye healthy nutrients from the spinach and fruits you included in the drink.
You can also consider teaching your child some eye exercises to help strengthen the muscles around their eyes. These exercises can also help your child's vision stay strong and healthy for years to come.
You can also try daily vitamin supplements like the Ocu-Plus Formula to help strengthen eyes and vision.
Our Rebuild Your Vision Ocu-Plus Formula Contains All 17 Vitamins, Minerals, and Herbal Supplements to Improve Your Eye Health!